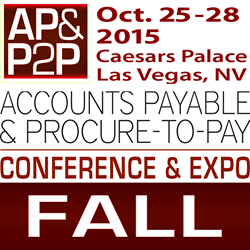 Our goal at the AP & P2P Conference & Expo is to provide the most complete AP experience: a one-stop-shop for AP and P2P professionals of all levels using any ERP system, in organizations of varying sizes
Portland, ME (PRWEB) June 24, 2015
The AP Network (TAPN) released its full conference program this week for the fall 2015 Accounts Payable & Procure-to-Pay Conference & Expo, taking place October 25-28, 2015 at Caesars Palace in Las Vegas. The new program expands its key focus areas from four to five conference tracks, with session topics encompassing more in-depth learning opportunities for P2P and shared services and AP management professionals than ever before.
The conference's international audience - over 500 accounting managers, controllers, and AP practitioners - will be able to customize their learning experience by selecting any session from five concurrent tracks:

AP University: Mastering Accounts Payable
Successfully Implementing Automation
Achieving Compliance and Improving Operations
Putting P2P Best Practices into Place
Solution Provider
A selection of program session topics include: Making the Case to Get Management On Board; Major Automation Trends: What to Expect and How They Will Impact You; Latest 1099 Developments and Compliance Tips; Managing the Invoice Process when Paper is Still King; P2P: From Beginning to End – Reaching Excellence Through Best Practices; and more.
New to the program are an executive panel on proactive leadership and "AP and P2P in the Hot Seat" Super Sessions, featuring expert advice and practical solutions for audits, personnel problems, and fraud.
"Our goal at the AP & P2P Conference & Expo is to provide the most complete AP experience: a one-stop-shop for AP and P2P professionals of all levels using any ERP system, in organizations of varying sizes," said Brian Cuthbert, Executive Director of The AP Network. "We've listened carefully to attendee feedback over the past few years, seeking out the right speakers who have expertise in any areas we weren't previously offering. What we've come up with is a careful blend of something for everyone," he added.
Conference speakers include top experts from Transamerica Life Insurance Company; Viacom; PayStream Advisors; Levi Strauss & Co.; LinkedIn; Vanderbilt University; FEDEX; CapitalOne; Booz Allen Hamilton; Ancestry.com; Voya; Netflix; The Hackett Group; and many others. In total, over 65 total sessions will be presented.
Workshops of varying topics and AP certification are also available at the conference on the first and last days for an additional fee. For more information, visit http://www.iofm.com/conference-fall or contact Gail Robinson at (207) 842-5627 or grobinson(at)divcom(dot)com.
About The AP Network
The AP Network is the largest global community for Accounts Payable, Procure-to-Pay and Financial Shared Services practitioners. TAPN advances the profession and supports its members' success by sharing best practices, tools, and expertise and by fostering peer-to-peer engagement.
The AP Network is one of three membership network within the Institute of Finance and Management (IOFM). IOFM oversees five certification programs which have trained more than 15,000 financial operations professionals worldwide. IOFM's three membership networks (The AP Network, The AR Network and The Controllers Network) feature industry research, benchmarking data, metrics, case studies, tools and other critical compliance resources. The Institute also produces on-demand e-learning resources and industry-leading conferences dedicated to AP, AR and Controllers. With growing certification and membership programs and a keen understanding of the issues and content critical to the profession, IOFM is the trusted source of information in the rapidly evolving field of financial operations.