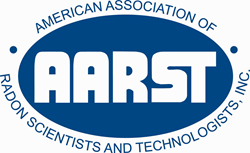 We must protect the public from lung cancer caused by indoor radon. Protracted radon exposure increases the risk of all types of lung cancer.
Fletcher, North Carolina (PRWEB) June 24, 2015
The Board of the American Association of Radon Scientists and Technologists (AARST), the nation's leading professional scientific radon association, recently released a new policy statement calling on the federal government to take serious and effective steps in addressing a very real health risk that causes, on average, a death every 25 minutes in the United States.
"The goals of the 1988 Indoor Radon Abatement Act have not been achieved," said AARST President Shawn Price. "The few policies implemented to date by the US EPA have failed to adequately address that silent deadly killer. Because voluntary efforts are insufficient alone to arrest this enormous health risk, we call for the following steps in our policy statement."
The American Association of Radon Scientists and Technologists (AARST) declares that indoor radon exposure will only be greatly reduced through the following actions:

Congress must direct EPA to issue regulations (1) requiring radon testing or notification for all home sales and (2) requiring that such radon testing be conducted by certified professionals adhering to standards recognized by the American National Standards Institute.
EPA must adopt a health-based action level no higher than 100 Bq/m3 (2.7 pCi/L) - the radon reference level adopted by the World Health Organization in 2009.
HUD must require that all federally assisted and insured housing units be mitigated if tested higher than EPA's action level.
OSHA must update and clarify its regulatory standard for offices and other workplaces to be consistent with EPA's action level.
The board's foundation position was very clear in the statement's call for these new federal policies:
"We must protect the public from lung cancer caused by indoor radon. Protracted radon exposure increases the risk of all types of lung cancer. Real people die daily from this radioactive gas," said AARST Board Member and retired school teacher Gloria Linnertz, who lost her husband to lung cancer almost a decade ago. "Congress instructed both EPA and HUD in the late 1980's to take definitive steps to address this risk, and they have not completed the assigned tasks."
Neither Gloria, nor her husband Joe, knew about radon until their oncologist told them about it during Joe's diagnosis. A radon test revealed they had been living with over 4 times the EPA action level of this demon for 18 years and they didn't know it.
"There is not even a basic requirement to test a new or existing home at time of sale or occupancy for this radioactivity. EPA has simply never used its full authority for this mission. It is disappointing," continued Linnertz. "to say the least, that they have never reported back to Congress requesting the proper resources to accomplish the assigned task."
HUD has taken limited action in addressing only a small part of the insured and assisted housing inventory.
The AARST Board statement also called for local and state governments to enact requirements for new and rental homes:
State and local building codes must incorporate an ANSI-approved Radon-Resistant New Construction standard or the International Residential Code's Appendix F to require that homes, schools, and other regularly occupied buildings in high radon-prone areas be built to substantially prevent radon entry.
State and local laws must require that a rental property be mitigated if tested higher than EPA's action level.
Both Price and Linnertz have fought EPA's proposed cuts to funding state radon programs (State Indoor Radon Grants.) Congress has listened and kept the funding level for the last three budgets, and the House has again proposed level funding for state radon programs. (Ref: http://appropriations.house.gov/uploadedfiles/hrpt-114-hr-fy2016-interior.pdf See pages 61-62)
"We need HUD Secretary Castro and EPA Administrator McCarthy to issue rules requiring testing for home sales and occupancy," said Price.
"The mandates and authority for safe housing for these two agencies are very clear to those of us who are affected," said Linnertz. "My husband, living only six weeks after diagnosis, died before the house was tested; and he, like many others, never knew that radioactive radon, the Class A carcinogen, was present in the home in high levels. Our government leaders are ignoring these deaths and sweeping them under the carpet. Do these agencies really care enough to make a difference in the lives of our citizens by being accountable and taking life-saving actions or are they just pretending to care? Real preventative action as described in this document will save lives."
Linnertz was instrumental in getting Illinois to pass the Radon Awareness Act in 2007 which greatly increased the risk reduction in that state. She noted that HUD's FHA advice doesn't even come close to the progressive notifications in Minnesota and Illinois.
Radon is a colorless, odorless, tasteless, radioactive gas, produced naturally in rocks and soil by the decay of uranium-238 and subsequently radium-226. Radon, with a radioactive half-life of about four days, enters homes and other buildings through cracks and penetrations in the building foundation.
A high radon gas concentration in a home or workplace increases the risk of radon-related lung cancer. Radon is the number one cause of lung cancer among individuals who have never smoked, and the second leading cause of lung cancer overall.
Radon is one of the most extensively studied carcinogens, and the diversity and consistency of findings provide overwhelming evidence that protracted radon exposure is the leading environmental cause of cancer mortality in the United States.
Testing is the only way to know if a person's home has elevated radon levels. Indoor radon levels are affected by the soil composition under and around the home, and the pathways through which radon and other soil gas may enter the home.
Homes that are next door to each other can have different indoor radon levels, making a neighbor's test result an imprecise predictor of radon risk. Elevated indoor radon levels can be mitigated by a properly certified professional, and the risk of radon entry can be reduced when a home builder uses up-to-date consensus standards approved by the American National Standards Institute (ANSI).
EPA and the U.S. Surgeon General recommend taking action to reduce indoor radon levels in homes that have a radon level at or above 4 pCi/L. This action level is not health-based; indeed, there is no known safe level of radon.
In 1988, the U.S. Congress set a long-term goal that indoor radon levels be no more than the outdoor level (i.e., 0.4 pCi/L or 15 Bq/m3).
The President's Cancer Panel recommended in 2009 that EPA consider lowering the action level, based on current radon-related cancer risk data. While the goal of reducing radon in homes to 0.4 pCi/L or below is not yet technologically achievable, the radon concentrations in most homes today can be reduced to 2 pCi/L or below (74 Bq/m3).
The World Health Organization (WHO) has set a recommended radon reference level of 100 Bq/m3 (2.7 pCi/L) for WHO member countries. US implementation of the WHO recommendation would eventually prevent about 5,500 radon-related lung cancer deaths annually.
Data from a nationwide radon study performed by state radon programs and EPA over 25 years ago suggested that 1 in 15 U.S. homes have radon levels at or above EPA's action level. More recent state radon program data indicate that in some states, the proportion of homes exceeding EPA's action level is much greater.
A full copy of the policy statement may be found here by contacting AARST's National Policy Director: JMalone(at)aarst(dot)org
The American Association of Radon Scientists and Technologists, Inc. is a non-profit association that is the sponsor of 29 International Radon Symposiums, is an ANSI accredited American National Standards Developer and is the nation's largest, non-profit radon credentialing association.