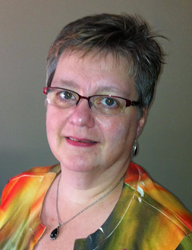 "I am delighted to be joining the Six Red Marbles team. I look forward to continuing my relationship with the various clients I have worked with in the past, as well as developing new relationships in the educational publishing field."
Boston, MA (PRWEB) June 23, 2015
Six Red Marbles today announced that Joyce Spangler joins the company's leadership team as Executive Director, Science.
"Joyce is an experienced editorial manager who has spent her career immersed in educational publishing, excelling at many facets of the vertical," said Bob Fogel, CEO of Six Red Marbles. "Her strong background in editorial and project management, science content knowledge and development, and client and vendor relations will help drive Six Red Marbles' science team."
For 20 years, Six Red Marbles has been a leader in developing blended learning materials, interactive curriculum and online courses for e-learning companies, educational publishers, schools and non-profit organizations, with the goal of engaging students through rich personalized experiences.
"I am delighted to be joining the Six Red Marbles team. I look forward to continuing my relationship with the various clients I have worked with in the past, as well as developing new relationships in the educational publishing field."
Spangler joins Six Red Marbles from MPS North America, where she served as V.P., Content Development. Prior to that, she was Editorial Director, Science at both Element, LLC and The Mazer Corporation. Spangler brings over 30 years of experience in educational publishing to the team. She has worked for several major publishers, including Macmillan/McGraw Hill and Silver Burdett Ginn. In her role as vendor partner, she has led projects for HMH, Pearson, McGraw Hill Education, Curriculum Associates, Triumph Learning, and Learning A–Z, among others.
About Six Red Marbles
Six Red Marbles is an award-winning creator of innovative digital and blended learning programs and educational solutions. As the largest U.S.-based provider of Learning Experience DesignTM, content development and education technology (edtech) services, the company works on approximately 250 projects each year for more than 50 customers, including publishers, schools, universities, foundations and technology companies. Having identified a set of Six Core Principles as part of its Natural Learning ApproachTM, Six Red Marbles is able to partner with customers to develop interactive and engaging products that support personalized learning for students across the early childhood to adult education markets. Backed by Calvert Street Capital Partners, a lower middle market private equity group, the company is headquartered in Boston, Mass., and has additional offices in Baltimore, Md.; Austin, Texas; and Delhi, India.