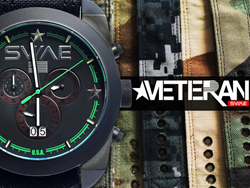 San Diego, CA (PRWEB) June 22, 2015
SWAE Watches release their Veteran Watch and plans to raise funds and awareness for Post Traumatic Stress Disorder (PTSD) by donating the net proceeds of the new line to various military focused charities.
America's servicemen and women have put their lives on the line to ensure their country's freedom and happiness, but who's looking out for them? At SWAE Watches, they're giving back to the nation's heroes with the launch of a non-profit campaign centered on their new product—The Veteran Watch.
SWAE Watches are one part swagger and one part powerful timepiece, providing men and women with bold accessories to match their lifestyle. Their Veteran Watch is a symbol of enduring strength that pairs the brand's iconic mix and match face plates and bands with a cause that supports returning veterans suffering from Post Traumatic Stress Disorder (PTSD).
The Veteran Watch has been built for extreme durability to match the modern adventurer who's out to take on the world. Sun, rain, and rugged terrain are no match for its durable build and sleek good looks.
Each watch features
· a black matte stainless steel alloy construction for optimal toughness,
· contrasting green hands and face accents as an homage to the military,
· a VD53 Quartz chronograph movement for flawless timekeeping,
· a scratch resistant mineral crystal window,
· 20 atm water resistance, and
· camouflage and black interchangeable straps.
With each sale, SWAE will donate all net profits of the Veteran Watch to military oriented charities including the Wounded Warrior Foundation.
Late 2015 is expected to bring new developments to the Veteran Watch line in the form of several special band series. The Standard Military series will consist of five military color schemes that represent each branch of service. The Limited Edition collection will be made from actual military uniforms donated by soldiers, and the Purple Heart Edition will be crafted from the uniforms of war heroes in honor of those who have given the ultimate sacrifice or been wounded in battle. The Purple Heart bands will each memorialize a select individual with a portion of the proceeds going toward that individual or the charity of their choice.
Since 2012, SWAE Watches has been the purveyor of cutting edge interchangeable timepieces built to bridge the action sport and urban lifestyle scenes. Co-founders Braydon Moreno and Mike Krogh launched the brand to teach the watch world a lesson in suave style. Their bold creations squash the status-quo with eye-catching colors, premium materials, and bands that can be switched up to suit one's mood.
For samples or additional information, please visit http://www.swaewatches.com or contact Nicki(at)veteranpr(dot)com.
About Veteran PR:
Rooted in the belief that hard work coupled with honesty and integrity is the key to any success, Veteran PR strives to help companies build their brand awareness through strategic and effective Public Relations Campaigns and Social Media Marketing Efforts. Veteran PR launched in 2015 after military veteran, Staff Sergeant Jason Thomas, teamed up with his wife and seasoned PR professional, Nicki Thomas. Together their vision is to help small businesses, especially veteran owned businesses, build their brand awareness with a PR Company business owners can trust.