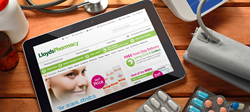 Click clearly understood our business objectives and formulated a search strategy that delivered commercial results. They have been professional in their approach, shown great attention to detail and the results achieved have been thoroughly impressive
Cheshire, UK (PRWEB UK) 3 July 2015
LloydsPharmacy Online Doctor offers patients an additional channel of care, providing a range of remote medical services in partnership with the NHS and private organisations.
They approached Click with the objectives of increasing organic traffic and search visibility for the Online Doctor website.
Using a campaign that combined organic search strategy with PR & editorial outreach, Click achieved these objectives and delighted their client with:

144% increase in organic sessions
77.59% increase in organic revenue
17% increase in online revenue
Increasing the number of page 1 terms to 36
The Online Retail Awards recognise retailers from around the globe that provide excellent customer experiences online, and are impartial and independent. The winners will be revealed at a ceremony on 15th September at the Royal Garden Hotel, Kensington.
Reaching the shortlist follows Click's other recent accolades:
Named as one of the UK's top 20 search marketing agencies by The Drum's Independent Agencies Census 2015
Featured in Econsultancy's Top 100 Digital Agencies Report 2015
Finalists in The Drum Search Awards 2015
Shortlisted for Best Organic Search Campaign at the Performance Marketing Awards 2015
LloydsPharmacy Online Doctor says:
"From the outset, Click Consult clearly understood our business objectives and formulated a search strategy that would help to deliver commercial results across key product areas. They have been professional in their approach, shown great attention to detail and the results achieved to date have been thoroughly impressive."