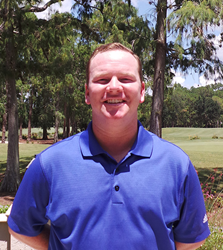 Naples, Fla (PRWEB) June 22, 2015
Quail Creek Country Club hosted the Southwest Chapter of the PGA on Wednesday, June 17 for their Global Golf Sales Series. This was their second event of four scheduled for the season and 74 local PGA professionals participated in the event. Sponsorship for the event is provided by Global Golf Sales and Steve Sponder.
Justin Bertsch, PGA Pro from Hideout Golf Club, shot a course record of 65 on the 18-hole Quail Course. He recorded seven birdies. The top ten finishers were:

First Place : Justin Bertsch- shot 65
Tied Second Place: Adam Crisp and John Lee – shot 69
Tied Fourth All Alone: Justin McCarraher – shot 70
Tied Fifth: Aaron Sustad, Dan Heaslip, Jay Westerlund, Mike Dopslaff – shot 71
All chapter members are PGA club professionals who appreciated the challenge the course presented. Quail Creek Country Club recently completed a multi-million dollar renovation to both the Creek and Quail courses. For many of these top area pros, it was the first time they had played the newly renovated Quail Course at Quail Creek Country Club. "We typically host our major events on our Creek Course, but the Quail Course has transformed into a superb golf challenge for even the best of players," stated Mike Dero, the Director of Golf at Quail Creek Country Club. Only eight professionals broke par and, apart from a stellar bogie-free round from Mr. Bertsch, par was considered an admirable score. The reports and comments regarding the redesign and renovation of the Quail Course from the pros after finishing their respective rounds were all very positive. Natural areas and native plants have replaced turf on the sides of many holes showcasing the shape of the fairway and hole design.
Quail Creek Country Club is proud to host numerous golf associations and non-profits. For more information contact the Golf Pro Shop at 239-597-2900.
About Quail Creek Country Club
Quail Creek Country Club is the premier, private, member-owned country club in Naples, Fla. Featuring two Arthur Hills-designed golf courses, a comprehensive tennis program, beautiful fitness and spa facilities, fine dining in the gracious clubhouse and a bustling social program, Quail Creek Country Club delivers the true country club experience. Membership is open to individuals who reside both inside and outside of the community. In fact, 70 percent of members do not live on campus. Quail Creek Country Club sets a new standard for the country club lifestyle. Learn more at http://www.quailcreekcc.com.