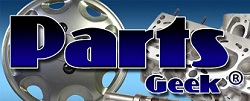 (PRWEB) June 25, 2015
According to an article released on June 8th 2015 by Tech Times, the defective airbags supplied by Japanese supplier Takata have now caused Mazda to recall over 540,000 vehicles in the Unites States. Mazda has found—just like many other car manufacturers—that the airbags in some of their vehicles could explode upon inflation. When vehicle owners finally bring their affected Mazda vehicle to the local dealership to be repaired, there is also a strong chance that the technician may find other auto parts that need to be replaced. Instead of making the decision to have the parts replaced there and then, Mazda owners should turn to Parts Geek. In fact, to better serve their customers, Parts Geek is pleased to announce that they have updated their inventory of Mazda parts.
Now, those who visit PartsGeek.com will be able to select from over 83,000 Mazda parts and accessories. Some of their top-selling Mazda parts include air filters, belts, brake pads, door handles, fuel pumps, and radiators. This leading online auto parts retailer also offers products for over 15 Mazda models that include the Protégé, Miata, Millenia, RX7, B2200, and CX7. Last but not least, the company offers many of their replacement parts from leading brands in the industry such as Dorman, AC Delco, Denso, Motorcraft, and K&N.
In addition to having an expanded inventory of Mazda parts, the company is also happy to announce that they now have over 2,500 reviews and a 4.9 out of 5 star rating. A recent reviewer, who ordered a Denso brand starter, had this to say: "This product was an instant upgrade to my current stock starter. Fast delivery, in great packaging to protect the part. The customer service was excellent (just make sure you ask them for your core return shipment as soon as possible.)" To read more reviews about their Mazda parts and to see their updated inventory, please visit Parts Geek's website.
About Parts Geek:
Parts Geek offers an extensive line of auto parts, performance accessories, and part applications. While focusing on providing the largest supply of replacement parts, Parts Geek also provides the lowest prices on all new, OEM aftermarket and performance parts and accessories. Online, visitors will find an extensive catalogue of new and used parts for all domestic and imported cars and trucks. Since 1996, Parts Geek has been offering customers complete satisfaction with their high quality service. The company's main office is located in Marlton, New Jersey. The main office is open Monday through Friday, from 9 am to 6 pm, and Saturday from 9 am to 3 pm.
To hear more about the company, please visit http://www.partsgeek.com.