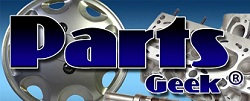 (PRWEB) June 26, 2015
On June 11th, 2015 an article released on usnews.com reported that Acura has made the decision to recall almost 48,000 2014 and 2015 MDX SUVs and RLX sedans due to an issue with their automatic emergency braking systems. When Acura owners owners bring their MDX SUV or RLX sedan to the dealership to have the issue remedied, there is the possibility that the technician may find other auto parts that need to be replaced. Instead of scheduling a follow-up appointment and spending the money to have the other parts replaced by the dealership, Acura owners can turn to Parts Geek for a more affordable option. Parts Geek, a leading online auto parts retailer, offers nothing but the highest quality and affordable auto parts. In fact, they are pleased to announce that they are now offering over 39,200 Acura auto parts.
Not only does Parts Geek offer auto parts for the MDX and RLX, but they offer them for other Acura models such as the Legend, Vigor, Integra, and CL. Some of the replacement auto parts that they have include blower motors, cold air intakes, fenders, ignition coils, mufflers, and countless others that can be found on the Acura auto parts page of their website. What's more, the company is also proud to offer many of their products from leading brands in the industry such as Genuine, Goodyear, Action Crash, and Replacement.
If a potential customer is curious about the type of feedback Parts Geek has received for their Acura auto parts, he or she will be pleased to find a 4.9 out of 5 star rating and almost 2,000 reviews. One reviewer, who ordered a Genuine brand transmission mount, had this to say: "Needed a transmission mount fast. Found on Parts Geek at a very good price and they shipped it promptly. The part was as described and fit was perfect. Would use Parts Geek again."
About Parts Geek:
Parts Geek offers an extensive line of auto parts, performance accessories, and part applications. While focusing on providing the largest supply of replacement parts, Parts Geek also provides the lowest prices on all new, OEM aftermarket and performance parts and accessories. Online, visitors will find an extensive catalogue of new and used parts for all domestic and imported cars and trucks. Since 1996, Parts Geek has been offering customers complete satisfaction with their high quality service. The company's main office is located in Marlton, New Jersey. The main office is open Monday through Friday, from 9 am to 6 pm, and Saturday from 9 am to 3 pm.
To hear more about the company, please visit http://www.partsgeek.com.