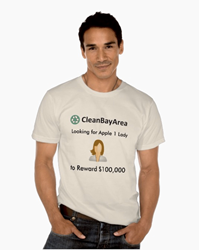 CleanBayArea to Ask 20 Major CEO's to Help Find the Owner of Apple-1 Computer
Milpitas, CA (PRWEB) June 23, 2015
CleanBayArea has been reaching headline news the past couple of weeks and has recently become one of the most talked about and recognizable e-waste recycling/surplus equipment liquidation company in the world. However, for CleanBayArea, the search continues to find and reward the woman who unknowingly donated the rare Apple 1 computer. The latest developments on the issue have brought forth many claiming they are or know of the mystery woman but have yet been unable to identify the woman.
Honesty, responsibility and perseverance are the core values that CleanBayArea and its employee community strive towards and in light of this situation have decided to start a campaign and reach out to the CEO's and companies within the Silicon Valley and Bay Area to help us jumpstart the mission to locate the woman.
The campaign asks 20 CEO's of the biggest companies, including: Apple, Google, Facebook, LinkedIn, Yahoo, Twitter, Tesla, Oracle, Salesforce, WhatsApp, Uber, Airbnb, Amazon, Symantec, VMWare, Intuit, Comcast and Netflix to wear the custom t-shirt* sent to them, take a selfie with it on and post it to Facebook using the hashtag #CleanBayArea. Once posted, the collection of selfie's will be aired on both national and global news broadcasts and media outlets across the world.
The e-waste recycling company believes that the combined efforts of the participating Silicon Valley companies will help find and reward the elderly woman her $100,000.
*t-shirts and instructions should arrive at the individual Silicon Valley companies within a weeks' time and they will include the following, "Looking for Apple 1 Lady to reward $100,000" on the front of the t-shirt and "Did you drop off 2 boxes of e-waste in Milpitas in April? Claim $100,000" on the back.