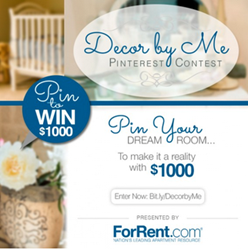 At For Rent Media Solutions™, our social teams are committed to making the most of social media platforms to communicate with apartment shoppers and provide tools for our customers to thrive in the industry.
Norfolk, Va. (PRWEB) June 22, 2015
On June 4, ForRent.com®, top apartment search destination, was announced the winner of the 2015 PRNews Social Media Icon Award in the Pinterest|Communications category in recognition of its Decor By Me Pinterest contest. ForRent.com competed in a highly competitive field that included honorable mention winners Anthropologie and 97th Floor, among others.
The Decor By Me contest encouraged users to collect and pin a variety of products, colors and designs to create the room of their dreams. Entrants responded to the question, "If you could have the space of your dreams, what would it be? How would it look? How would it feel?" Participants were entered in a drawing to win $1,000 at the end of the May 5-23, 2014 contest. The contest was quite successful, receiving a total of 734 repins. Pinterest impressions reached more than 150,000, with a 65% increase in unique visitors to ForRent.com's consumer blog, Apartment Living.
Not long after the contest launch, Pinterest changed its rules regarding "pinning," creating unforeseen obstacles for the campaign. However, Decor By Me proved very successful, which PRNews attributed to "the adaptiveness of the team." ForRent.com selected ten additional winners after the grand prize drawing, with those winners receiving the actual items they had pinned to their boards. This resulted in a positive user experience, organic mentions of ForRent.com via social media, and an overall beneficial experience for involved participants.
"At For Rent Media Solutions™ (FRMS), our social teams are committed to making the most of social media platforms to communicate with apartment shoppers and provide tools for our customers to thrive in the industry," said Terry Slattery, president of For Rent Media Solutions. "Being celebrated among such amazing companies is an honor and proof of hard work and dedication. We are proud to have been included in PRNews' Social Media Icon Awards two years in a row -- last year with FRMS director of social media, Erica Campbell Byrum winning a Social Media MVP Award and this year with Decor by Me."
ForRent.com congratulates all of the finalists and honorable mentions for the 2015 Social Media Icon Awards.
About ForRent.com®
As one of the nation's leading online home search destinations, ForRent.com® inspires renters to discover their next apartment, loft, townhouse, or condo. ForRent.com features rental listings in a user-friendly format, making finding your next home an easy exploration. Visitors to the ForRent.com blog will discover relevant information and can join the conversation surrounding home decorating style, apartment hunting tips and more. ForRent.com serves as the complete resource for renters in every part of their living experience.
Begin your apartment search today with ForRent.com, one of ForRent.com's mobile apps, ForRent.com Magazine or search ForRent.com on YouTube. For decor tips and more, visit http://www.forrent.com/blog/.
About For Rent Media Solutions™
Founded in 1982 as For Rent Magazine®, For Rent Media Solutions™ is headquartered in Norfolk, Virginia, and provides property managers and owners with diverse marketing and advertising products, services and education. These products are easy to use, easy to understand, and designed with renters in mind. For apartment shoppers, For Rent Media Solutions provides robust community listings in a multitude of media, including print, social, online, mobile, video and an extensive distribution network. For Rent Media Solutions publishes 80 magazines covering more than 80 markets nationwide, including AFTER55.com™ A Senior Housing and Care Resource, ForRent.com® Magazine and ForRent.com en Español Revista De Apartamentos. For Rent Media Solutions operates five websites: ForRent.com, AFTER55.com™, CorporateHousing.com®, ForRent.com en Español and ForRentUniversity.com™. Additionally, ForRent.com listings receive exclusive distribution to Homes.com® Rentals. Visit ForRent.com for more information, or visit us on Facebook, Twitter, Google+, YouTube and LinkedIn.