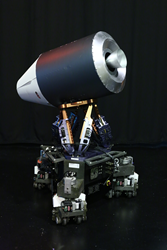 Dallas, TX (PRWEB) June 23, 2015
VectorNav Technologies, a leading provider of navigation and motion sensing solutions, is demonstrating space debris removal technology developed in cooperation with the Texas Engineering Experiment Station and faculty at Texas A&M University under a NASA contract this week at AIAA Aviation 2015 in Dallas, TX (Booth #201) from June 23-25, 2015. In addition to the space debris removal technology demonstrations, the Dallas-based company will be showcasing at the exposition its recently announced VN-300 surface mount Dual Antenna GPS-aided Inertial Navigation System (GPS/INS), as well as its current line of VN-100 IMU/AHRS and VN-200 GPS/INS products.
The problem of debris in low Earth orbit is an issue of rising concern among NASA and other organizations seeking to launch successful space missions. As ground-based modeling and simulation of missions to remove space debris are notoriously difficult, NASA enlisted VectorNav Technologies, in partnership with TEES, to develop a ground-based simulation platform that will model space debris removal missions.
The research combines advanced robotic technologies developed by Texas A&M's Land Air and Space Robotics (LASR) Laboratory along with VectorNav's inertial sensing and dynamics modeling expertise to achieve a high-fidelity, ground-based simulation testbed for autonomous proximity operations. At the exposition, the team will be demonstrating the HOMER robot, capable of rotating and moving its SL-3 Vostok rocket model payload in all dimensions, as if floating through space.
For additional information about the Space Debris Removal Project or about VectorNav's product line, please visit http://www.vectornav.com or contact VectorNav Sales at [email protected] For inquiries regarding career opportunities with VectorNav, please contact VectorNav Careers at [email protected]
About VectorNav Technologies:
VectorNav Technologies specializes in manufacturing high-performance inertial navigation sensors using the latest miniature MEMS sensor and GPS/GNSS technology. Since its founding in 2008, VectorNav has been providing customers worldwide access to high quality, fully calibrated inertial sensors with state-of-the-art digital filtering technology. With a strong background in aerospace engineering and experience in the development and testing of spacecraft, launch vehicles, and micro-aerial vehicles, VectorNav brings high performance aerospace filtering and calibration techniques into the world of low-cost industrial grade MEMS sensors and GPS/GNSS, expanding the possibilities of today's inertial navigation technology.