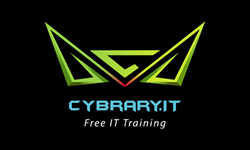 "We are pleased to be a part of this program that will not only help refugee women gain valuable skills towards employment, but also bring new minds and talent into the tech industry.
Greenbelt, Maryland (PRWEB) June 23, 2015
Cybrary, the world's first and only no-cost IT and cyber security MOOC, today announced a partnership with the Cornerstone pilot program to help train Washington, D.C.-based refugee women in basic IT and computer literacy skills.
Set to launch in July, Cornerstone will teach refugee women about basic computer hardware, word processing, Internet search, and email from volunteer instructors at Cybrary's state-of-the-art cyber security training facility in Greenbelt, Maryland. Students who pass the four-week program will receive their Northstar Digital Literacy Certificate. All courses will be conducted in English; English proficiency is required from students. The pilot program aims to graduate 10 students.
"America is the land of opportunity, but sometimes people have trouble overcoming the barriers they face," said Sarah Chu, program director, Cornerstone. "While cyber security typically conjures up this picture of elite hackers squirreled away in some bunker, Cybrary is just the opposite – welcoming, community-oriented, and all about accessibility. The students of Cornerstone will not only train on the latest technology, but they'll be exposed to the wide and wonderful world of IT, which can spark both a passion for the field and open the door for job prospects."
In addition to lab space, Cybrary will provide Cornerstone with computers and other technical resources. As an added bonus to the program, Cornerstone students will have the option of continuing their learning through Cybrary's end-user security awareness course, which helps organizations mitigate the prime threat that their networks and data protection face, their employee's usage.
"Cybrary's mission is to provide comprehensive IT and cyber security training options for underserved and disadvantaged people seeking to break into the tech field or advance in their current jobs," said Ryan Corey, co-founder of Cybrary. "Partnering with Cornerstone is directly in line with this mission, and we are pleased to be a part of this program that will not only help refugee women gain valuable skills towards employment, but also bring new minds and talent into the tech industry."
Running the program are Chu and Brianna White-Gaynor, who both hold their Master's degree in International Affairs from American University. Additional partners to the program include Sapient, which is sponsoring the final exam, the Maryland Center for Women in Computing, which is providing intern support for the program as well as sponsoring a van to transport the students to the facility, and Women In Technology, which is providing program support - and also recently partnered with Cybrary on a separate initiative.
Many of the women in the program who've resettled in D.C. are from Afghanistan, Iraq, Burma, and other distressed regions with cultural backgrounds of gender segregation. By providing a safe, female-only environment, Cornerstone provides an underserved audience with essential technology skills to support their development in the American workforce.
Cornerstone has also launched a Crowdfunding program to help subsidize costs of transportation, childcare, and course materials - http://www.crowdrise.com/cornerstonedc.
Since launching in January of this year, Cybrary has enrolled more than 100,000 users in over 150 countries. Cybrary currently offers the most in-demand and cutting-edge certification courses in systems administration, network administration, and cyber security, with new courses in regular production.
About Cybrary
Founded in 2015, Cybrary gives aspiring and practicing IT professionals what they have long deserved and been denied: access to free, high-quality, open-source and results-focused IT and cyber security training that will help start and advance their careers. A MOOC provider whose top managers have nearly 15 years of experience in IT training, Cybrary offers free online training to anyone, anywhere and at every skill level in systems administration, network administration and cyber security.