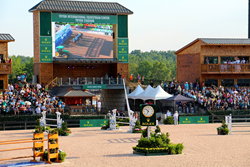 The 'New' Next Best Place to Live in North Carolina
Asheville, North Carolina (PRWEB) June 23, 2015
Earlier this month, Real Estate Scorecard had the opportunity to attend the Grand Opening ceremonies of the Tryon International Equestrian Center claiming its place as the world's largest equestrian facility developed by Mark Bellissimo who also developed the Palm Beach International Equestrian Center. Saturday Night Lights and Hunter and Jumper Competitions are popular events at the center. To Real Estate Scorecard, it's no surprise the developer chose the quaint town of Tryon, North Carolina, a haven for wine making and horse enthusiasts. The county of 18,000 people is home to over 6,000 horses.
A bird's eye view of this town unveils even more of its natural beauty. Nature lovers and residents bask in the glory of the town's lush greenery which extends to nearby mountain golf courses such as Bright's Creek. This 4,700 acre gated community has its own equestrian amenities which include an immaculately clean 14 stall barn, training arenas and 12 miles of horse trails paralleling beautiful rustic mountain homes and babbling streams. The Bright's Creek Equestrian Center offers full boarding, lessons, trail rides and grooming services. After working up a hearty appetite, the Bright's Creek Members Club serves up scrumptous cuisine to top off the day.
Located in the sprawling hills of North Carolina, Tryon is quickly becoming one of the most sought after equestrian retirement communities in the country. Large land tracts, mild weather and picturesque scenery add to the appeal. Within a 60 mile radius, the cities of Asheville, Greenville and Hendersonville enhance the equine experience of living in the mountains of the Carolinas. Jockeys, horse trainers and owners aren't the only people galloping to Tryon, North Carolina, which houses the largest equestrian facility in the world. Families of all ages are finding Tryon, the 'new' next best place to live in North Carolina.
The Tryon International Equestrian Center boasts a stellar reputation as a premiere class facility for aspiring riders. And, it is the largest equestrian facility in the world. As a sought after destination, The Tryon International Equestrian Center hosts international-level competitions. Attendees can watch competitions from a comfortable elevated viewing platform with climate-controlled shade structures. Take a look at some of the other luxuries at the center:
Tryon International Equestrian Center Amenities
10 Competition Arenas
4 Barns
1 Covered Arena
1 Schooling Arena
1 Practice Ring
Bridal Path
Legacy Club
Sports Complex
Future Hotel - Ground Breaking 2017
4 Future Farmettes
14 Log Cabins (1-5 bedrooms)
Tryon International Equestrian Center Core Events
$210K Tryon Grand Prix by Rolex
Tryon spring Competitions
Tryon Summer Competitions
November Classic
Halloween Celebration Horse Show
Tryon Fall International Competitions
If watching the horses inspires one to get in on the action, the campus is the perfect place to take a lesson, saddle up a horse and mosey on down one of the many horseback riding trails. FENCE (Foothills Equestrian Nature Center) is another nearby facility in Tryon that is part of the FETA 100 mile trail system the stretches across Polk County. FENCE facilities provide stabling for over 300 horses in 11 barns, lighted show rings, covered riding area, a seven furlong Block House Steeplechase course and onsite accommodations.
When Tryon residents aren't talking about horses, they're usually talking about the town's other main attraction – its wineries and vineyards. Tyron's moderate winters and cool summers make for the perfect combination to cultivate the grapes at several of the town's vineyards. Folks may not know, North Carolina ranks 10th for wine and grape production in the United States. Whether folks want to taste-test local wines or just take in the scenery of one of the Tryon vineyards or wineries, folks are bound to find something to enjoy. Visitors can choose from one of the 5 Tryon wineries: Parker-Binns; Overmountain Vineyards; Mountain Brook Vineyards; Russian Chapel Hills Winery; and Green Creek Winery.
Tryon's equestrian retirement communities also feature a vibrant downtown arts and music community and there's plenty of events to choose from including concerts, plays or art exhibits. In the early 1900's, Tryon Toy Makers began manufacturing wooden horses on wheels and this has become the cornerstone of Tryon. Today, meet "Morris the Tryon Horse", the town's supersized mascot gracefully standing on the corner of Trade and Pacolet Street since 1928. No matter what you are looking for, you can find it in Tryon along with beautiful rustic mountain homes. Tryon's hip cultural arts scene may be one of the reasons why literary greats like F. Scoot Fitzgerald and Ernest Hemingway often visited this town.
Celebrities, families and seniors still flock to Tryon's equestrian retirement communities and private gated communities like Bright's Creek, home to a Tom Fazio designed championship golf course. Catering to the equines in the family, Bright's Creek offers a one of a kind Equestrian Hospitality Package which translates into a 'Bed & Breakfast' for the family and family's horse. Enjoy the comfort of a spacious Lodge Room, a continental breakfast each morning and access to all Bright's Creek's guest amenities. And for the family's horse...
Overnight boarding in spacious 12 x 12 stall
Night check
Stall cleaning
Bedding
Large arena with jumps
Access to miles of trails
2 Nights Lodging
2 Nights Boarding for One Horse with Feed and Hay
Continental Breakfast
Price: $399 for two nights, plus taxes and gratuity, based on double occupancy
Extra Horse - $40 per horse per night
For the outdoor enthusiast with an affection for horses, wine and/or golf, discover Bright's Creek, home to one of the prettiest mountain golf courses surrounded by waterfalls and tasteful rustic mountain homes.
Call Bright's Creek direct to check on accommodations availability at 888-497-1195.
About Real Estate Scorecard:
Real Estate Scorecard writes unbiased real estate reviews providing in-depth information about popular gated communities in Florida, Georgia, the Carolinas, Tennessee and Central America, all in an effort to help people discover where to retire in the South.
Website: http://realestatescorecard.com