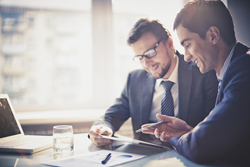 Hiring managers will be better able to help their organization in the areas of hiring, talent management, and people analytics.
Princeton, NJ (PRWEB) June 23, 2015
CALIPER, a pioneer in talent assessment and consulting for over 50 years, today announced the launch of the Caliper Certification TM Program, three different types of certification and two different levels based on specific goals, levels of expertise, and use of its proprietary assessment, the Caliper Profile. Caliper Certification is ideal for clients or individuals who currently integrate Caliper Profile results into numerous aspects of their talent-management process, or for those who plan to do so in the future. Participants will gain comprehensive knowledge on the mechanics and application of the Caliper Profile assessment, including an in-depth understanding of behaviors and traits that comprise each formula.
The core certification program, "Foundations," is designed to provide customers with a detailed understanding of the Caliper Profile using the Caliper Advisor report. This includes content on psychometrics, compliance, interview questions, and interpretation of Caliper Profile behaviors and traits. The "Master" level of certification is appropriate for strategic partners who want to develop a deep connection between the Caliper Profile and the employee life cycle. Also offered is a "Special" level of certification for customers who have completed the Foundations level and are seeking specialized training around other Caliper products and services.
"Not only will hiring managers be able to better interpret and understand Caliper Profile results within the context of their organizations, but they can also leverage their improved knowledge to gauge their employees' motivations and create developmental programs that enhance their strengths and address their limitations," explained Herb Greenberg, Ph.D., Founder and CEO of Caliper.
The key benefits of the Caliper Certification program includes a detailed understanding of the Caliper Profile, an in-depth understanding of behaviors and traits that comprise each formula, the knowledge to become an organization's in-house expert, the ability to fully understand employees' motivations, and information on retaining top performers and helping them thrive.
The program will be available in two settings. The first offering includes regional events that bring together representatives from numerous Caliper clients, learning from each other in a collaborative environment. The second offering is an on-site program, with a number of employees to be certified with content that is customized for specific organizations' business needs. There will also be a client-specific format where activities and case studies can be contextualized to their exact needs. The program includes a series of interactive webinars, Caliper Clips, an on-site two or three day workshop, and consulting time with a Caliper Coach.
The first Caliper Foundations Certification event for clients will take place June 24-25, 2015 in Princeton, NJ. The first Caliper Master Certification for partners will take place July 13-15, 2015. For pricing and additional product information, visit https://www.calipercorp.com/certification/.
About CALIPER
Caliper is a leading talent management consulting firm which concentrates on the assessment and development of new hires and existing employees. For more than 50 years, CALIPER has helped over 30,000 organizations worldwide to improve critical aspects of managing talent. CALIPER starts with accurate, objective insights that its consultants gain from the proprietary Caliper Profile, and the company delivers insight to define the right fit which delivers the best behaviors leading to the creation of a first-class company. CALIPER Founder and CEO Herb Greenberg, Ph.D., developed the Caliper Profile which has assessed the potential of more than 3.5 million applicants and employees. For more information, visit http://www.calipercorp.com or call 609-524-1327.