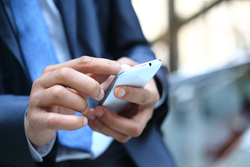 South Portland, ME (PRWEB) June 22, 2015
In response to the rapidly-changing demands of e-commerce, Tasker Payment Gateways has positioned itself to help its clients adapt to new ways of doing business. Pursuant to an agreement with Flint Mobile, Inc. to become an authorized reseller of its mobile app, the company has created a helpful resource on its website to help users understand this newcomer to the world of internet sales, compare the features of the app with other gateways, and determine whether this new approach to accepting credit cards is right for their business.
The app itself – known simply as "Flint" - is among the first widespread software application to allow merchants to process credit cards in both physical and virtual environments without any additional hardware. It accomplishes this by allowing its users use their phones as scanners to capture the physical credit card number when on the go – eliminating the need for a dongle or card swiper – while also supporting the creation of web buttons for products sold online.
The app also supports the creation of custom invoices with online bill-pay options, coupons, and reports for tracking transaction history, customer data, and other business information, which gives it much of the functionality of a traditional gateway. Unlike many other gateways, however, it does not require the merchant to apply for a third-party merchant account, but gives the user access to its own merchant account behind the scenes.
Tasker Payment Gateways believes their partnership with Flint will open up new sales avenues to merchants, who are often unable to sell goods in a physical environment or inconvenienced by the extra bookkeeping and cash payments it requires. By offering the Flint App, the company intends to offer an option with maximum flexibility for clients who demand it, without sacrificing the most important features of a traditional gateway. The company also believes such an alternative will draw new customers who could not previously work within the limitations of the traditional options.
Tasker Payment Gateway's new consumer resource provides an overview of the app's most important features as well as access to complete pricing tables and the Flint sign-up form. For customers with special needs, such as high-risk vendors or high-volume merchants, it also provides customer service numbers for personalized help and assessment so potential customers can make sure Flint is the best option for their needs and set it up correctly to ensure a smooth transition.
About Tasker Payment Gateways: 
Tasker Payment Gateways is a payment gateway reseller located in South Portland, ME that specializes in helping high-risk clients. Whether working with novices or well-seasoned internet gurus, the company strives to help merchants take their businesses to the next level through payment gateway sales, selection expertise, experienced consultation regarding merchant services and shopping carts, and chargeback mitigation counsel.