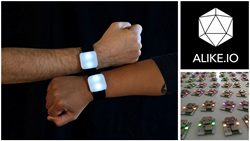 Cochrane, Alberta (PRWEB) June 23, 2015
ANT Wireless, proven innovator in ultra-low power (ULP) wireless technology, today announces their participation in the Pop-up Factory at O'Reilly's Solid conference in San Francisco. Wireless communication for the Alike social networking wristbands is powered by the ANT protocol, and is just one example of new Internet of Things (IoT) applications being realized with ANT.
At this year's Solid conference, ANT will also be presenting and independently showing the ANT protocol in action. Come visit ANT Wireless in the Startup Showcase to see a smart accent lighting product concept powered by the ANT scan-and-forward multi-node network solution, controlled from smartphones and a wearable device platform. ANT Wireless offers an entire family of multi-node solutions built on the ANT protocol, providing easy to use and flexible configurations for IoT applications.
O'Reilly's Solid Conference covers hardware, software and the IoT, and runs from June 23 to June 25, 2015 at the Fort Mason Center in San Francisco. For more information, visit http://solidcon.com/internet-of-things-2015.
About ANT / ANT+
ANT is an established ULP wireless networking protocol suitable for sensing, monitoring, and control applications. ANT+ is a set of interoperable device profiles for primarily sport and fitness devices, built on the ANT wireless networking protocol. ANT has enjoyed significant success and adoption in sport, fitness and wellness applications thanks to over 100 million ANT+ products in the market, and is suitable to any ULP wireless networking application. Visit http://www.thisisant.com to learn more about the ANT Wireless protocol or the ANT+ interoperable product ecosystem.