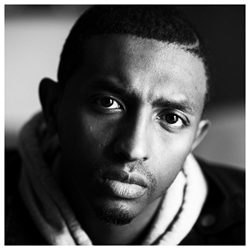 It's liberating for me to accept who I truly am
Oklahoma City, OK (PRWEB) June 23, 2015
Rapper Abe is releasing a single in collaboration with LA-based alternative songwriter Sonja Midtune. The single includes a new video with behind-the-scenes footage, now available in four parts on YouTube.
"Free" is Abe's latest release. The behind the scenes footage includes a video narrative that tells the story behind the music and then shares the new "Free" video in the final part.
For Abe Alem — one half of F14 and the duo's wordsmith — "Free" was inspired by the universal struggle to fit in.
"I struggled with fitting in but not being able to fit is what is helping stand out now," Abe said. "It's liberating for me to accept who I truly am. I'd rather not be accepted for who I am than be celebrated for who I am not. You can keep cool, that never worked for me."
The video's four parts are available as follows:

About the Artists
Sonja Midtune is a singer-songwriter who hails from Minnesota, Minn. and is now based in Los Angeles. She writes and performs alternative pop inspired by artists like Oh Land, John Mayer, Lana Del Rey, Lorde, No Doubt, Joni Mitchell and Taylor Swift. Her EP "Post Love" was released on iTunes late last year.
F14 (http://f14life.com) is Abe Alem and Wayne Valentine.
Abe Alem is an electrical engineer and rapper who used his passion for technology to lift himself out of poverty and avoid deportation back to his birth country of Ethiopia. A graduate of Kansas State University, Abe immigrated to the U.S. in the 1990s. Today, he uses technology not only to pay his bills but to help build his brand as a rapper. In addition to being a prolific songwriter, he is the scriptwriter and executive producer of F14's motion pictures. Abe welcomes fans to text his iPhone at 913-538-1223.
Abe currently lives in Oklahoma City, Oklahoma. Abe and Valentine have been best friends since first grade and began creating music together in the spring of 2011 as F14. Abe's single "Never Know," a collaborative effort with the up-and-coming Kansas City rock band Black Oxygen, was released last winter.
Learn more about Abe's music and view the new "Free" video at f14life.com. Watch Abe's videos at http://f14life.com/motionpics/. To reach Abe for booking and business purposes, email management(at)f14life(dot)com. Follow Abe on Facebook, Twitter & Instagram.