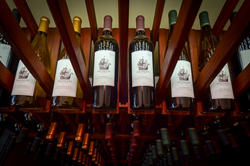 Red Varietal Winery of the Year
Saratoga Springs, NY (PRWEB) June 23, 2015
Halfmoon Cellars Winery of Saratoga Springs was awarded "New York Red Varietal Winery of the Year" at the 2015 New York International Wine Competition, as well as "Best New York Wine" for its 2014 Cabernet Sauvignon at the 2015 Big E Northeast Gold Wine Competition.
The New York International Wine Competition was held in New York City. The judges, consisting of trade only buyers from top retail stores, sommeliers, restaurant owners, hotel beverage directors, distributors and importers, evaluated the entries. The Big E Northeast Gold Wine Competition was held in West Springfield, Massachusetts and the judges and combined the competitions received over one thousand entries from over thirty countries.
In addition to the titles, Halfmoon Cellars Winery received multiple gold, silver, and bronze medals for its submitted varietals. This is Halfmoon Cellars' first year entering either competition.
For more information about Halfmoon Cellars Winery and its wines, visit http://www.halfmooncellars.com and be sure to add Halfmoon Cellars on Facebook, and follow on Twitter, Pinterest and Instagram.
About Halfmoon Cellars Winery
Established in 2012 by Alison Bauder and John Reyes, Halfmoon Cellars Winery is a boutique upstate New York winery based in Albany with limited production wines. Halfmoon Cellars has a tasting room open to the public in the heart of downtown Saratoga Springs at 24 Caroline Street. Although Halfmoon Cellars is a relatively young winery it has already won numerous prestigious awards for its wines since its first 2012 vintage.