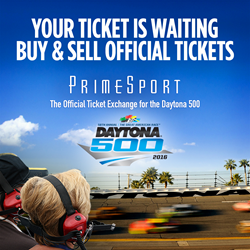 "Our partnership with PrimeSport provides fans with a safe, dependable and fully authorized method for securing official tickets to the DAYTONA 500 and other Daytona International Speedway Events."
Atlanta, GA (PRWEB) June 22, 2015
PrimeSport, the leader in providing direct access to the biggest sporting events, and Daytona International Speedway announced today the launch of the Official DAYTONA International Speedway Ticket Exchange, which will be a brand new product offering for fans wanting to attend the 2016 Daytona International Speedway Events, including the Daytona 500. PrimeSport will host and manage the only official resale marketplace where race fans can buy and sell 100% guaranteed tickets to Daytona International Speedway Events.
"Our fans have always been our top priority, so providing a safe and secure marketplace for tickets is at the top of our list," said Daytona International Speedway President Joie Chitwood III. "Our partnership with PrimeSport provides fans with a safe, dependable and fully authorized method for securing official tickets to the DAYTONA 500 and other Daytona International Speedway Events."
As the Official DAYTONA Ticket Exchange, PrimeSport has created a secure and approved resale marketplace for fans to buy tickets to "The Great American Race." Furthermore, if a ticket holder is unable to attend, they can now post tickets for sale conveniently on PrimeSport's official exchange site. Fans can feel safe while purchasing tickets, as PrimeSport has 100% customer satisfaction guarantee on all transactions.
PrimeSport is also the Official Fan Travel Provider for Daytona International Speedway offering DAYTONA 500 travel packages during the season. Official travel packages typically include hotel accommodations, pre-race pit pass, pre-race hospitality, round-trip transfers, official welcome gifts, premium race tickets and more! Each package is customizable and can be fit to a fan's specific needs.
"We are excited about our continued partnership with the DAYTONA International Speedway as they launch an official ticket exchange in 2016," said Sam Soni, Chief Executive Officer of PrimeSport. "Our priority is always to help deliver the best possible experience to race fans and we are looking forward to delivering the PrimeSport Experience to fans attending the 2016 DAYTONA 500."
For more information on the official Daytona International Speedway Ticket Exchange, visit PrimeSport.com.
About PrimeSport:
PrimeSport is the leader in providing direct access to the biggest sporting events, offering tickets, travel, hospitality, and VIP experiences for corporations, professional sports teams and fans. PrimeSport's extensive experience in sports travel, hospitality and ticketing has allowed the company to form long term, official partnerships with some of the largest sporting events and organizations in the country. As a result, PrimeSport can provide more exclusive access to more events than any other company in the industry. Official partnerships include select NCAA Championships®, including the NCAA® Men's Basketball Tournament and Men's Final Four®, Men's College World Series®, Division I Wrestling Championships, Women's College World Series®, Women's Final Four®, Women's Volleyball Championship and Men's Frozen Four®, NHL, 20 NFL teams, 2015 College Football Playoff National Championship, Rose Bowl, Sugar Bowl, Alamo Bowl, Orange Bowl, Holiday Bowl, Poinsettia Bowl, Chick-fil-A Bowl, Chick-fil-A Kickoff Game, AdvoCare Texas Kickoff, State Farm Champions Classic, Jimmy V Classic, 2K Classic, Gotham Classic, Legends Classic, Wrangler National Finals Rodeo, Feld Motor Sports, more than 40 major NCAA Division I universities, nineteen NASCAR speedways and more. PrimeSport is a privately-held company, headquartered in Atlanta, GA. For more information, visit PrimeSport.com or call 800/591-9198.
About the Daytona International Speedway
Historic Daytona International Speedway is home to the DAYTONA 500 – "The Great American Race" and NASCAR's biggest, richest and most prestigious race. The DAYTONA 500 is held annually every February and many of NASCAR's greats have captured the coveted Harley J. Earl winner's trophy such as Richard Petty, Dale Earnhardt, Cale Yarborough, Jeff Gordon, Dale Jarrett, Bobby Allison, Mario Andretti, A.J. Foyt, Jimmie Johnson, Kevin Harvick, Dale Earnhardt Jr. and most recently Joey Logano.
NCAA , Final Four, Frozen Four, Men's College World Series, NCAA Championships, NCAA Ticket Exchange, The NCAA Experience, Women's College World Series and Women's Final Four are trademarks licensed or owned by the National Collegiate Athletic Association. All other marks are property of their respective holders.
Media Contacts:
PrimeSport
pr(at)primesport(dot)com