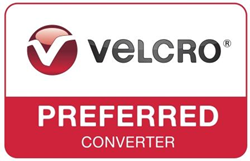 This deeper relationship with Velcro Companies will allow Gleicher Mfg to create virtually any re-closable fastener solution our customers might need – that's exciting.
(PRWEB) June 30, 2015
Velcro USA Inc. and Gleicher will work even more closely with product and device manufacturers across industries. With this greater support, Gleicher can address some of the toughest obstacles in product design and assembly resulting in better performing devices. "This deeper relationship with Velcro Companies will allow Gleicher to create virtually any re-closable fastener solution our customers might need – that is exciting," says Doug Sanderson, Gleicher President.
Gleicher's long-term and highly successful relationship with Velcro USA Inc. ensures access to the most innovative solutions and the highest quality materials available. Using its full array of design and cutting technologies, Gleicher supplies a range of custom VELCRO® Brand Fasteners that meet critical design and performance requirements.
Services Include:

Custom Materials - if an application needs a unique color, or a hybrid technology, Gleicher engineering staff will team with experts from Velcro USA Inc. to help design, test, and manufacture the material that matches virtually any technical requirements. 
Custom Fabrication and Conversion - Gleicher converting services can reduce manufacturing time and costs while improving quality and your bottom line. With fabrication facilities in Scotch Plains NJ, Gleicher is a reliable source of high-quality components, kits, and sub-assemblies ready to be integrated into the most demanding product applications.
Custom Delivery – As a Preferred Converter, Gleicher has access to bulk material shipping and delivery options. Converted materials are available as individual components, sub-assemblies or kits shipped to meet customer needs.
Before converting any material, manufacturing experts at Gleicher first assist in sourcing the best options for its customers specific manufacturing or assembly needs. Gleicher can then go on to help the customer with prototypes and testing. According to Founder and CEO Chick Gleicher "Getting involved early in a product's development is where Gleicher can really add value to the process. It's how we ensure our solutions reliably meet customer needs."
ABOUT GLEICHER MANUFACTURING CORP
Gleicher Manufacturing Corp is a leading specialty converter and distributor of engineered fastener materials and adhesives. Since 1949 Gleicher has become an industry leading resource for reliable assembly and fastener solutions in medical, electronic and defense markets. Only Gleicher can provide the technical expertise, converting capabilities, and consistent quality needed to meet complex production requirements of device manufacturers. Visit http://www.Gleicher.com
ABOUT VELCRO COMPANIES:
Velcro Companies is a technology-driven, global organization providing fastening solutions that solve problems in simple, elegant and surprising ways for businesses and consumers around the world. With more than 50 years of experience, Velcro Companies is proud of its heritage in innovation. They own over 400 active patents and numerous trademarks, including the VELCRO® trademark which is registered throughout the world.  It offers global resources for world-class solutions, with manufacturing locations in Spain, the United States, Canada, Mexico, and China and sales offices around the world.  Visit http://www.Velcro.com to buy our products and find out more, and "Like" VELCRO® Brand on Facebook: http://www.facebook.com/velcrobrand for more information.