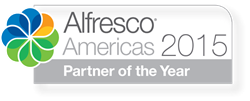 Zia Consulting has been able to truly deliver business-critical content solutions." – Bob Chrissman, Global VP Channel Sales for Alfresco
Boulder, CO (PRWEB) June 22, 2015
Zia Consulting, Inc., the leading provider of Enterprise Content Management (ECM) and Intelligent Document Capture business solutions, announced today their recognition as the Alfresco Americas Partner of the Year for the third time. In addition, Zia was awarded Customer Expansion Partner for 2015.
In 2014, Zia once again delivered exceptional performance on new Alfresco accounts, customer service, and innovative product development on the Alfresco platform. Zia continues to create and implement valuable business solutions for customers worldwide, build enterprise offerings integrating Alfresco with other technologies, and grow their team of thought leaders.
"Being named Alfresco Americas Partner of the Year for 2015 is such an honor for the entire team at Zia," said Mike Mahon, CEO of Zia Consulting. "Our investments in the Alfresco partnership, focusing on providing unique solutions and delivering business value to customers, have allowed us to once again significantly grow our number of new customers with Alfresco and support existing customers with innovative new content services. With the launch of our newest solution, Adhere for Alfresco, we are able to address the 'content chaos' that exists today from SharePoint and Office 365 to file shares and email."
"Thanks to the incredibly hard work of their entire team and the significant investments made by the company, we are thrilled to recognize Zia Consulting as the Alfresco Americas Partner of the Year. This is based on the extraordinary results they have achieved over the past year through our joint partnership and collaboration," said Bob Crissman, Global VP Channel Sales for Alfresco. "Building on our robust platform and integrating other technologies, Zia Consulting has been able to truly deliver business-critical content solutions."
Across the entire Alfresco platform—Document Management, Records Management, and Activiti—Zia has built business solutions that work including new releases over the past year such as:

Adhere for Alfresco: Delivering SharePoint and Office 365 integration and synchronization, federated search, business process, security, and governance.
Accelerate: Automating document processing and delivering Rapid ROI by leveraging extraction and classification, along with advanced workflow, records management, and ERP/CRM integration.
Universal Content Security (UCS): Delivering data security across any technology, for internal or external collaboration, from Dropbox and SharePoint to USBs and email.
EasyRM with Alfresco: "Everyone's a Records Manager, and Nobody Knows It." Solutions that work the way you do through an automated governance process.
"At Zia, we are committed to delivering world-class business solutions that build on the world-class content platform that is Alfresco," said Phil Robinson, Zia's SVP of Business Development. "Whether it's our work on Adhere or Accelerate, our efforts in the banking, mortgage, and insurance industries, or our legal and government solutions, we continue to develop and strengthen our partnership with Alfresco."
Nearly seven million people in over 180 countries use Alfresco to share, organize, protect, and manage their content—including an increasing number of government organizations seeking cost effectiveness, open standards and platform flexibility. Across these agencies, departments and companies, Zia is the leading provider of Alfresco business solutions to help them become a content connected enterprise.
Learn more by visiting Zia and Alfresco at Alfresco Day Chicago, Alfresco Day San Francisco, or at their upcoming Solution Seminar in Dallas.
###
Zia Consulting delivers Enterprise Content Management (ECM) solutions that address the content chaos needs of your enterprise to better manage and secure the most important documents. As the leading partners for Alfresco and Ephesoft, we bring start-to-finish guidance and customization based on your organization's needs. Our Adhere solution focuses on solving SharePoint and shared drives by identifying and classifying critical content, integrating ECM platforms, streamlining business processes, and then delivering content security, information governance, and federated search. Our Accelerate solution targets the costly and complex document processing tasks that exist from mortgage, insurance, government, and more. It provides case management, automated classification and extraction, BPM/Workflow, and enterprise integration, to deliver a rapid ROI.