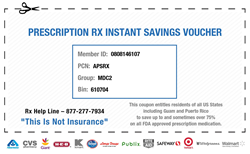 Houston, TX (PRWEB) June 23, 2015
Because the latest and most popular prescriptions drugs are typically pricier than long-tenured options, Medicationdiscountcard.com suggest printing out a free coupon card from its website. No forms and no eligibility requirements mean anyone can start saving money at the pharmacy today. Coupons are available for all prescription antidepressants, including:
Cymbalta
Cymbalta is a relative newcomer to the antidepressant marketplace. The drug entered the market in 2004 and since then has been used to treat not only depression, but also anxiety, fibromyalgia and arthritis. Because it has been approved to treat such a variety of conditions, Cymbalta has taken the top spot in US pharmaceutical sales, topping 10 million monthly prescriptions. Medicationdiscountcard.com offers patients a money-saving Cymbalta coupon that's accepted at all major chain pharmacies.
Pristiq
Like Cymbalta, Pristiq is a Selective Norepinephrine Reuptake Inhibitor, SNRI, which some patients respond better to than SSRIs like Paxil or Lexapro. Because it's been available only since 2007, analysts think the drug will continue on its upward climb in sales and prescription numbers. Pristiq discount cards from Medicationdiscountcard.com can help the millions of people taking this medication save from 10% to 75% at the pharmacy.
Viibryd
Viibryd is one of the newest antidepressant medications on the market, and it has gained significant traction because of its relatively low side effect profile. Data on its effectiveness compared to other popular antidepressants is not overwhelming, however. Still, doctors are confident enough in the drug's potential to make it the third most frequently prescribed drug in its class in 2014. Patients can print a Viibryd coupon from Medicationdiscount.com and pay less for their prescription, with not forms to fill out or eligibility requirements.
Celexa
The makers of Celexa have seen its popularity wax and wane, but the drug has always managed to retain a foothold on the list of top-selling antidepressant medications. In 2011, doctors wrote nearly 40 million prescriptions for this medication. Celexa is a standard SSRI, and patient get the most benefit when they follow their doctors' instructions precisely, which includes refilling a monthly prescription. Medicationdiscountcard.com offers a Celexa coupon for anyone worried about the cost of regular trips to the pharmacy.
Zoloft
Zoloft is currently prescribed for depression, anxiety and obsessive-compulsive disorder (OCD). Its effectiveness and versatility have made it one of the top-selling prescription drugs for more than 20 years. Affordability is one of Zoloft's benefits; a prescription is even more affordable with one of Medicationdiscountcard.com's Zoloft coupons.
Note: The information above is intended to supplement, not substitute for, the expertise and judgment of your physician, pharmacist or other healthcare professional. It should not be construed to indicate that use of the drug is safe, appropriate, or effective for you. Consult your healthcare professional before using this drug.
About Medicationdiscountcard.com
Medicationdiscountcard.com was started to provide discounts on prescription drugs to those who need it most. Our goal is to provide you with the largest savings possible when compared to other cards. We invite you to compare the savings our card will provide to that of other leading providers.