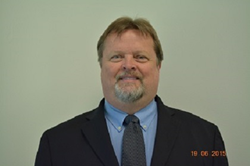 "Integra will be the best-in-class optical service provider in the industry" Herbert Gross, Integra COO
St. Louis, MO (PRWEB) June 24, 2015
St. Louis, MO (June 24, 2015) -- Lawrence J. Mezoe, a veteran telecommunications executive with leadership expertise in optical network engineering, technical assistance and customer service, joined Integra Asset Management (http://www.integra-am.com) as Vice President of Optical Services tasked with expanding the company's footprint in this growing service sector.
Mezoe built his 30-year career in the telecom industry with roles in engineering, senior management, data and customer service, and by developing and building world-class optical service organizations, most recently at Coriant, where he was director of the Technical Assistance Center. He joined Integra June 1.
"With Larry's expertise and leadership, Integra will be the best-in-class optical service provider in the industry," said Integra's Chief Operating Officer, Herbert Groiss. "His seasoned team of optical engineers have supported a variety of OEM products and telecom carriers and understand the optical network and infrastructure."
Mezoe said he is excited about working with a small, minority-owned company with a broad vision of where it wants to be in the next few years. "I like what Integra stands for. I think we can take Integra forward into a major company," he added, explaining that a number of pending contracts with World Wide Technology (WWT), a global systems integrator and Integra strategic partner also based in St. Louis, could catapult Integra into a premier optical services provider.
"I'm really excited to be part of this ground floor opportunity to help with something really big for both Integra and WWT," Mezoe added. "I like what Integra and WWT stand for. When you see them working together, it feels like one big team instead of two companies."
By expanding into the delivery of optical network services, Integra (http://www.integra-am.com) will provide engineering and technical support, project management, staging, installation and decommissioning, and recycling to telecom and enterprise organizations upgrading their copper cable to fiber optics networks.
Mezoe said Integra will provide clients with "the best optical service team on the planet" to engineer and support the expansion and modernization of network infrastructure, which benefits carriers with reduced service activation times as well as lower operation and maintenance costs.
The Integra optical team's newest project is providing engineering and testing services for WWT, which was selected to integrate new equipment for a national carrier's next generation metro optical network in the United States. The upgraded metro network will deliver improved scalability, functionality and efficiency for high-capacity video and data transmission for wireless customers.
Integra Asset Management (http://www.integra-am.com is an SBA 8 (a) certified Small Disadvantaged Business and certified Minority Business Enterprise (MBE) that delivers project management and technology life cycle solutions to telecommunications companies, the federal government and commercial clients. We strive to help our customers effectively achieve their missions by deploying technology solutions that reduce costs, save time and increase profitability.
# # #
Media Contact: Kathleen Siedlecki, 314-775-5297 or ksiedlecki(at)integra-am(dot)com