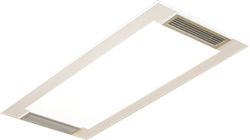 "The HRMS is poised to be a game-changer in the commercial cleaning and air quality industry."
South Bend, Indiana (PRWEB) June 24, 2015
The challenge of cleaning and disinfecting both air and surfaces in commercial buildings like schools or offices and even hospitals, regardless if they are new construction or renovated projects, can be a daunting. For the leadership team of Guardian-X LLC, the task is a walk in the park. With over 40 years of expertise in the commercial cleaning, janitorial supply and HVAC industry, Director of Guardian-X, David Borofsky and team, is confident the addition of the innovative Health Risk Management System (HRMS) manufactured by American Green Technology (AGT) will provide a complete system for cleaner, superior results.
"I'm proud of the products that we have developed over the years for surface cleaning," said David Borofsky. "But what was lacking was a product like the HRMS that worked effectively for the air. Removing dramatic amounts of pathogens from the air will greatly reduce the number of pathogens that gather on surfaces, making it more effective to kill surface infectious diseases. The HRMS is poised to be a game-changer in the commercial cleaning and air quality industry."
"Pennsylvania is a growing market and we are thrilled to have a distributor like Guardian-X representing the HRMS there," said Danny Bogar, CEO for AGT. "The customer base in PA will benefit from the efforts of Guardian-X to bring the HRMS to commercial buildings, schools, hospitals, really any building where young, old, sick, as well as healthy people need clean, fresh air to breathe."
The HRMS is an innovative use of a proven infection prevention technology. In fact, ultraviolet light has been an important infection control weapon for over 80 years; however, overexposure concerns to UV rays have limited its usage. The HRMS combines UV-C disinfection with an overhead ceiling light allowing for 24/7 cleansing of circulated air in occupied rooms with no exposure to room occupants. To watch a detailed video on how the system works, click here.
About American Green Technology:
American Green Technology® (AGT) is a company dedicated to developing innovative, sustainable products to positively impact the health, economy and environment of global communities. AGT's Health Risk Management System (HRMS) is a patented UVC lighting product clinically proven to eliminate 99.7% of airborne pathogens that cause Healthcare-associated Infections (HAIs) in hospitals or wherever it is installed. http://www.agthrms.com