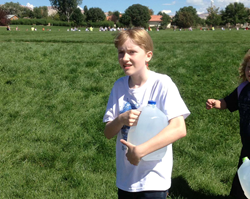 I would like to help everyone have clean water, but it takes many people.
Kansas City, Kan. (PRWEB) June 23, 2015
When 12-year-old Jennifer Stuckenschneider learned her sponsored friend had to walk a distance equal to five football fields multiple times a day to collect water, she decided it was time to take action.
Jennifer made it her mission to raise enough money to purchase water tanks for 31 families in the Unbound sponsorship program. She accomplished her goal by hosting a Walk for Water event in her hometown of Grand Junction, Colo.
"I have seen that a little bit of money goes a long way," said Jennifer. "I have seen that helping one person helps many people. I have also seen that having clean water means many changes in people's lives. I would like to help everyone have clean water, but it takes many people."
Last fall, Jennifer hosted Walk for Water at the Holy Family Catholic School where more than 400 walkers, ages 4-18, from her community attended. Most walkers carried a gallon of water around the school's track, with younger participants carrying two water bottles.
Together, Jennifer and her walkers raised more than $3,200 for Unbound's Health program. Among other things, the program provides wells and filtration systems so families can drink clean water, construct sanitary toilets and reduce waterborne illnesses. Families also participate in hygiene education through the program.
The result of Jennifer's big idea is clean water for more than 150 people in Honduras.
The money Jennifer raised purchased 31 water tanks. Before the tanks were installed, families had to pay for water, or spend hours a day traveling to find water, that wasn't always clean.
"A special thanks to Jennifer Stuckenschneider for her wonderful heart to help the most in need around the world," said Rina Leticia Ramirez Mondragon, coordinator of Unbound's program in Tegucigalpa, Honduras. "May God bless her and give her more strength and desire to continue supporting the most in need, because these actions, such as raising funds to support others, are worthy of admiration."
Jennifer has started mapping out her next Walk for Water event, which will be Sept. 19 at Colorado Mesa University.
"When people have access to water it does not mean just water," said Jennifer. "It means small vegetable gardens. It means children have more time for school. Moms have time to hold jobs and families can begin to have a better life, all from water being more accessible."
About Unbound:
Unbound is the largest nonprofit organization in Kansas with more than $120 million in annual revenue. Unbound works side by side with people of diverse faith traditions in 20 countries, bringing people together to challenge poverty in new and innovative ways.
Unbound distributes direct aid as quickly and efficiently as possible to people who need it. 92.5 percent of Unbound's expenses go toward program support.
###