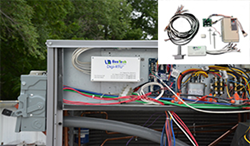 Omaha, NE (PRWEB) July 16, 2015
As analyzed & reported by California's Emerging Technologies Coordinating Council, Southern California Edison tested Bes-Tech's Digi-RTU® HVAC Rooftop Optimization Kit and found an energy reduction of up to 40% kW and 50% kWh.
Digi-RTU®
The Digi-RTU® is a heating, ventilation, and air conditioning (HVAC) rooftop control kit that is both a demand management and energy saving device. Through modulating the capacity of a rooftop unit to match the cooling or heating requirements of a space, the Digi-RTU® improves the energy efficiency and demand requirements of the unit while solving all humidity, common noise, and frequent on/off cycling issues.
Digi-RTU® Advanced Controls

Variable Refrigerant Flow; Compressor Optimization
Variable Air Flow; Fan Speed Control
Integrates with Existing Economizer
Meets ASHRAE 62.1/ CA-Title 24 Requirements
Fault Detection & Diagnostics
Demand Response Functionality; Load Limit Capable
Remote Monitoring
About Bes-Tech:
Bes-Tech has been a leader in energy efficient building systems technologies for the past ten years. The company was founded on proven scientific engineering processes and technologies that reduce peak energy demand, minimize energy usage, and maximize energy efficiency. The company actively works to lower the carbon footprint of the built environment.
Contact Information
Bes-Tech, Inc.
4640 S 59th Street
Omaha, NE 68117
pressrelease(at)bes-tech(dot)net
402.502.2340
Contact Information
Bruce Geary Bes-Tech
http://www.bes-tech.net
402.502.2340