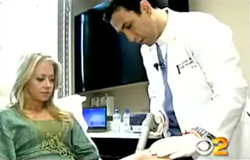 Los Angeles, CA (PRWEB) June 23, 2015
On June 8, 2015, Harper's Bazaar Magazine UK in an article titled "Bazaar's Guide to Banishing Cellulite," defines what cellulite is, what causes it, and offers some treatment options for cellulite sufferers. Cellulite is the dimpled, lumpy flesh on the buttocks, abdomen, hips, and especially, the thighs. This fat appears lumpy as it pushes against the skin's connective tissue. While not a serious medical ailment, cellulite's characteristic cottage cheese appearance can be very distressing to those that suffer from the condition. (see: http://goo.gl/IKuxYO)
"According to this article, 90% of all women have cellulite," says Dr. Simon Ourian, Medical Director of Epione Beverly Hills. "I've heard this statistic countless times, though I've no idea of its scientific basis. Without a doubt there is a huge marker for cellulite "cures" and over the years I've seen some interesting ones. I recall a pair of jeans infused with flower buds soaked in coconut oil that was purported to minimize the offending fat cells."
According to the Harper's Bazaar Magazine UK article, genetics and gender offer the primary predispositions for getting cellulite, with women far more likely than men to get it. Estrogen, the primary female sex hormone, can stop the breakdown of fat and stimulate fat tissue. For some, cellulite doesn't become apparent until later in life. As skin thins with age, cellulite can become more pronounced. Increasing one's water intake will not cure cellulite nor will over-the-counter lotions, and creams.
"At Epione we offer the OptiLipo treatment protocol to address cellulite," says Dr. Ourian. "OptiLipo involves devices that deliver a gradual, constant Ultrasound/RF and infrared light energies into the fat tissue. A heat buildup is created by this energy at the junction where the skin and fat layer meet. Collagen bundles deep in the skin are modified by this heat, resulting in the stimulation of new collagen growth plus a contraction of the skin resulting in firmer, tighter, and younger looking skin."
Dr. Ourian has been a pioneer in laser technology and non-invasive aesthetic procedures including UltraShape, VelaShape, Restylane, Juvéderm, Radiesse, Sculptra, and CoolSculpting. These treatments are used for the correction or reversal of a variety of conditions such as acne, acne scars, skin discoloration, wrinkles, unwanted fat, stretch marks, varicose veins, cellulite, and others. More information about cellulite can be found on Epione's website.