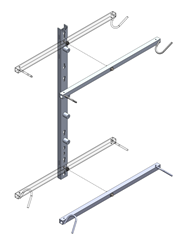 We listened to our customers and engineered the aluminum coil bracket to help field technicians install faster.
Spartanburg, SC (PRWEB) June 23, 2015
AFL introduces an aluminum coil bracket for splice enclosures including its Opti-Guard™ and SB01 products. The aluminum coil bracket is much lighter, making it easier to ship and install.
Initially manufactured with steel which required palletizing and stacking for shipment, the new aluminum unit is 25 percent of the weight of the previous unit, making it easier to handle and install onto structures. The new bracket consists of three-pieces, is easy to assemble and ships in a box preventing damage to the unit. Furthermore, the bracket now includes banding slots added to the vertical body extrusion portion of the unit for more versatility in the attachment schemes to the structures.
"We listened to our customers and engineered the aluminum coil bracket to help field technicians install faster. What was once a two or more person installation is now a one person installation," commented Matthew Welborn, applications engineer for AFL's accessories division.
The aluminum coil bracket supports AFL's SB01 and Opti-Guard splice enclosures and stores extra lengths of ADSS or OPGW. The Opti-Guard splice enclosure accommodates up to 504 single fusion splices. Easy to maintain and re-enter, the enclosure is light weight and mounts to many types of structures. The SB01 enclosure can store up to 25 feet of buffer tubes with 144 fiber splice capacity. Manufactured of iron and steel, this enclosure is weather and bullet-resistant.
For more information on AFL, its products and services, visit http://www.AFLglobal.com.
About AFL
AFL provides industry-leading products and services to the electric utility, broadband, communications, factory, enterprise, wireless and transit rail markets as well as the emerging markets of oil and gas, mining, nuclear, avionics, medical, renewable and intelligent grid. The company's diverse product portfolio includes fiber optic cable, transmission and substation accessories, outside plant equipment, connectors, fusion splicers, test equipment and training. AFL's service portfolio includes market-leading positions with the foremost communications companies supporting inside plant central office, EF&I, outside plant, enterprise and wireless areas.
Founded in 1984, AFL is proud to offer engineering expertise, exceptional products and reliable service that help our customers improve their critical and electrical infrastructure. AFL has operations in the U.S., Mexico, Europe, Asia and Australia. The company is headquartered in Spartanburg, SC, and is a wholly-owned subsidiary of Fujikura Ltd. of Japan.