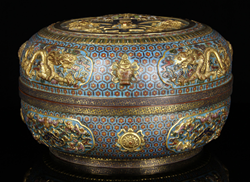 Beverly,Massachusetts (PRWEB) June 29, 2015
On July 12th Kaminski Auctions presents a two-session sale featuring Fine Asian Antiques followed by an unreserved estate auction. The first session includes a large selection of exquisite Ming and Qing Dynasty porcelain, elegant watercolor paintings, handsome examples of Chinese furniture, as well as excellent jade carvings, and outstanding cloisonné pieces.
Top lot of the sale is a Chinese cloisonné round box decorated with the "Chun" character for spring, as well as, lucky bats and dragonflies. Found in a Massachusetts estate it measures 8 ½ inches by 14 ½ inches in diameter and is valued at $10,000-$20,000.
Another interesting cloisonné box features the Chinese Nine Peaches. Having richly gilded raised peaches, branches, flowers, and bats against a yellow enamel background with a Syringa mark on the base, this exquisite box is estimated at $4,000-$5,000. From the same estate comes an important 18th/19th century Chinese painting on silk of scholars traveling in a mountainous landscape. It is estimated to bring $6,000-$10,000.
An important Chinese military sword from a Connecticut collector features a spinach jade handle and gilt bronze decoration, housed in a carved wooden scabbard decorated with beads. It is valued at $4,000-$6,000.
The unreserved estate session includes striking bronze pieces after Chiparus and Barrias, a selection of fine art, and two splendid bronze chandeliers from the estate of a prominent Los Angeles, California attorney, plus the remaining items from the Jackie Pearson estate from San Diego, California.
Sure to interest mid century collectors is a Guido Gambone (Italian, 1909-1969), modernist table lamp, featuring various yellow designs on a dappled pink background, signed underneath with the artist's donkey motif. From a California collection this rare piece is valued at $3,000-$5,000. In addition there is an Alexander Calder (American, 1898-1976) print titled "Our Unfinished Revolution," circa 1975, estimated at $3,000-$5,000, as well.
Several pieces of Daum art glass, Gallé cameo glass from a La Jolla, California estate, antique Persian carpets, and a pair of French inlaid chests round out the estate portion of this sale.
Preview for this exciting sale is Thursday through Friday, July 9th -11th from 10:00am -5:00pm and at 8:00am day of sale. For more information and to view the entire sale online go to http://www.kaminskiauctions.com and sign up to bid with KaminskiLIVE.