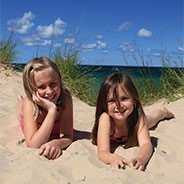 The lakeside communities of Petoskey, Harbor Springs, Bay Harbor and Boyne City are famous for their nautical flair. From crystal-blue Little Traverse Bay to sparkling inland lakes, water fun is everywhere.
Petoskey, MI (PRWEB) June 23, 2015
The lakeside communities of Petoskey, Harbor Springs, Bay Harbor and Boyne City are famous for their nautical flair. From crystal-blue Little Traverse Bay to sparkling inland lakes, water fun is everywhere. To top it off, there's a calendar full of incredibly cool events, festivals and entertainment. Take a look below for a glimpse of what makes our area a Michigan treasure.
Some of the Best Michigan Beaches are Around Petoskey
Summer has arrived and it's time to trade shoes for flip-flops and business suits for the swimming kind. Yep, it's time to head for the beach to catch some rays and enjoy a summer vacation Pure Michigan style. While there are beautiful beaches throughout the mitten state, you won't find many better than those in and around Petoskey, Harbor Springs, Bay Harbor and Boyne City. So if your idea of a great vacation includes great beaches, look no further than the Petoskey Area of northern Michigan.
Antiques at the Fairgrounds
July 4-5
Emmet County Fairgrounds in Petoskey
Following an $11 million renovation, Antiques at the Fairgrounds is back. More than 170 dealers from around the country will be exhibiting a huge array of antique merchandise from the smallest collectibles such as estate jewelry, to a wide range of antique furniture and everything in between: pottery, china, textiles, prints, etc.
Night of Arts Fine Art Tour
July 10
Harbor Springs
Visit the Harbor Springs area for a special evening dedicated to artists and fine art lovers! All galleries, studios and boutiques will be presenting original, one-of-a-kind, and limited edition works of art, fine jewelry and crafts during Harbor Springs' Night of Arts. Admission is free.
Boyne Thunder
July 10-11
Lake Charlevoix in Boyne City
Boyne Thunder is a 150-mile boating poker run. This unique boating event showcases high performance boats slicing through the waters of Lake Charlevoix and Lake Michigan.
Blissfest Music Festival
July 10-12
Festival Farm in Harbor Springs
Blissfest is a celebration of music, culture, art and community featuring diverse and innovative folk, world and roots music and dance spent over a weekend in picturesque northern Michigan.
Bay View Cottage Walk
July 14
Bay View
The Bay View Cottage Walk is an opportunity to view nine private Bay View cottages and several historic campus buildings. Other highlights include musical and theatrical presentations and lunch on the picturesque grounds of Bay View.
Art in the Park
July 18
Pennsylvania Park in Petoskey
Artists from all over the country come to Art in the Park to show off their work. From jewelry to photography, paintings to pottery and everything in between, this is the perfect place to find that perfect, one-of-a-kind gift or decorative piece.
Northern MI Flywheelers Antique Tractor-Engine and Craft Show
July 23-26
Flywheelers Show Grounds
You won't want to miss the Antique Tractor-Engine and Craft Show presented by the Northern Michigan Flywheelers. Opening ceremonies start at 9am and the activities include a Parade of Power, 100 Doodlebug Challenge, Tractor Safari and so much more. This is a fun-filled event for the whole family.
Little Traverse Bay Ugotta Regatta
July 24-26
Harbor Springs
Sailboats from across the U.S. head to Harbor Springs each summer for sailing traditions: the Little Traverse Yacht Club Ugotta Regatta. The Regatta brings some of the best sailboat racers in the country to Little Traverse Bay. Approximately 85 sailboats will participate. The series begins with one design racing on Thursday and Friday followed by tour-of-the-bay courses on Saturday and Sunday.
Bay Harbor Arts Festival
July 25-26
Village at Bay Harbor
Each summer, the Bay Harbor Arts Festival features artists from across the country chosen for their unique talents. The festival takes place along the waterfront at the Village at Bay Harbor. Artists' works represent a variety of fine art which includes painting, pottery, jewelry, metal works, furniture, glass, wood and fiber art. Live musical entertainment will also be a part of the festival.
Downtown Petoskey Sidewalk Sales
July 31-Aug 1
Downtown Petoskey
2015 is the 50th anniversary of Petoskey Downtown Sidewalk Sales, and the city is celebrating by offering visitors the best prices of the year on a unique variety of merchandise. The streets will be closed off to create an outdoor festival environment. Hours are 9am-9pm Friday and 9am-6pm Saturday. The farmers' market will be open as well, and musical performances will keep everyone entertained.
###