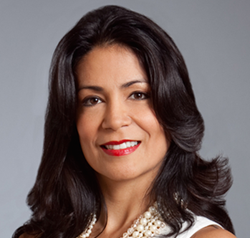 Between 2000 and 20012 Hispanics represented 50% of US population growth
New York, NY (PRWEB) June 23, 2015
Hispanic consumer thought leader, Univision Communication's VP of Strategy and Insights, Liz Sanderson, will share must-know data from proprietary research to help the brand marketers who attend M2Moms® http://www.m2moms.com better understand the growing opportunity with Hispanic moms. Her presentation will show where Hispanic moms' purchasing motivations lie, and how best to engage them with strategic marketing initiatives. M2Moms® the 11th Annual Marketing to Moms Conference will be held October 6 & 7, 2015 at the New York Marriott Downtown. M2Moms® is a professional learning event that teaches brand marketers how to increase their share of moms purchasing.
Sanderson explained, "This young, family-first segment is leading the way in spending on categories like CPG food, household products and beauty. They are an ideal target for any marketer looking for a growth engine for their own brand. Between 2000 and 20012 Hispanics represented 50% of US Population Growth. At 57 million strong, U.S. Hispanics are a driving force in this country, contributing over $1.3 Trillion in consumer spending, and representing the majority of growth in key youth demos."
"Brand marketers and their agencies need to keep up with today's ever evolving, demographically changing moms," according to Liz Fongemie, M2Moms® producer. "And like Liz's presentation, M2Moms® gives them the know-how, research, case studies, workshops, peer-to-peer learning and networking they need to build more business with moms."
"Moms really are brand-critical decision makers for a broad range of products and services," Fongemie added. The Fast Fact Page on M2Moms® - The Marketing to Moms Conference is filled with statistics showing that moms buy everything from sports drinks to prom dresses, diapers to dog food, lipstick to laptops, autos to pharmaceuticals. They buy for their homes, for their kids and they plan and pay for the family vacation. They purchase on every channel, every possible screen … traditional and new media, they use it all."
"Every year," Fongemie continued, "M2Moms® is attended by a really comprehensive and diverse list of brands including Microsoft, Johnson & Johnson, Evenflo, IKEA, Abbott Nutritionals, GM, Allstate, Heinz, Symantec, Hasbro, BBC, NBA, Procter & Gamble, Wyeth and Coca-Cola. M2Moms® typically sells out every year. Marketers attend because they know that keeping up with today's moms is critical to building and maintaining market share in virtually every industry and product category."
Preliminary 2015 M2Moms® sponsors include Associate Sponsors: Saatchi & Saatchi, Ketchum, Mabel's Labels, Univision, MtoM Consulting, TapInfluence, Bundoo, Smarty Pants, School Family Media; Showcase Sponsors: Sprout, The Motherhood, PTPA Media, Ibotta, CBX, Mom Central Consulting, Kid Kritics Approved, Little Big Brands, Lake Group Media, Macaroni Kid, May Designs, Marakae Marketing; Workshop Sponsors: The Bump, Eric Mower & Assoc., C+R Research; Video Content Resource: Snippies.
For M2Moms® information: http://www.m2moms.com or 860.724.2649 x11. M2Moms® is produced by PME® Enterprises LLC, 912 Silas Deane Hwy., Suite 101, Wethersfield, CT 06109.