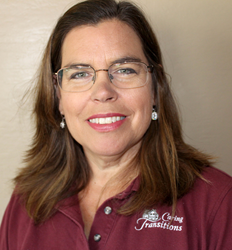 I'm looking forward to providing an excellent customer service experience alongside people I know and trust. It's all about our family serving your family. - Susan Craig
Pleasanton, CA (PRWEB) June 22, 2015
Susan Craig is excited to bring quality relocation and estate sale services to her community through her new business, Caring Transitions of the Tri-Valley.
Caring Transitions is America's largest resource specializing in managing relocations for seniors and busy families as well as downsizing and estate liquidations. In addition to organizing, packing, decluttering, moving and resettling, Caring Transitions can handle on-site and online estate sales, liquidations, and preparing homes for market. Caring Transitions of the Tri-Valley serves Pleasanton, Livermore, Sunol, Castro Valley, San Ramon and the surrounding communities.
"Over the years, I have personally experienced, and seen many friends struggle with, life's most stressful and overwhelming times including life-changing illness, the death of a loved one, the changing needs of an aging parent or a divorce. This compelled me to start Caring Transitions, a business dedicated to helping seniors and their loved ones as well as busy families cope with moving, downsizing and estate liquidation," Susan said.
Whether your situation is planned or unexpected, Caring Transitions' services are perfect for busy families, seniors moving in with family or into a safer living situation, or people clearing out the home of a loved one who has passed. All of the services offered as customized, so clients only pay for the services they need.
"My focus is to minimize your emotional and physical stress, work with compassion and integrity and maximize your returns while helping you through a difficult time in your family's life. You can be assured I will be committed to act as your onsite advocate, keeping your family's best interest at heart," Susan said.
"I pride myself in providing exemplary customer service and doing what I say I will do. My motto is 'Done to Perfection with Great Compassion.' I am honored to be part of a wonderful team of employees who are kindhearted, friendly and extraordinarily professional," she added.
Susan, who lives in Pleasanton and is originally from Canada, comes to Caring Transitions with a background in law, education, health and hospice care. She is also a Certified Relocation and Transition Specialist, a designation bestowed by an independent organization that evaluates providers of senior relocation services.
Caring Transitions of the Tri-Valley is licensed, bonded and insured and all employees have been thoroughly background-checked. In fact, many of the team members are also members of the Craig family.
"Caring Transitions of the Tri-Valley is family-owned and, for the most part, family run. I'm looking forward to providing an excellent customer service experience alongside people I know and trust. It's all about our family serving your family," she said.
Caring Transitions is a trusted and highly respected national company leading the way in senior relocation, household liquidations and estate sale management in more than 150 locations across the United States. Caring Transitions is part of the International Franchise Association, the Small Business Association's Franchise Registry, VetFran and Minority Fran.
For additional information about Caring Transitions and to learn how the company can help you and your family, call (925)399-4442, email SCraig(at)CaringTransitions(dot)net or visit http://www.CaringTransitionsTriValley.com.
About Caring Transitions
Caring Transitions, founded in 2006, is the first national franchising concept specializing in senior relocation and transition services. With more than 150 locations throughout the United States all owned and operated by Certified Relocation and Transition Specialists, Caring Transitions provides clients with supportive moves, auctions, rightsizing and transitions. This includes expert advice plus a well-executed transition plan beginning with the initial sorting of personal belongings through packing, shipping and selling of items to the final clearing and cleaning of the property. For more information, visit http://www.caringtransitions.com or visit us on Facebook or Twitter.