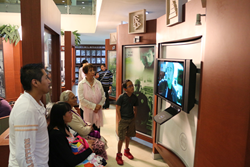 Los Angeles, CA (PRWEB) June 22, 2015
The Church of Scientology of Mexico celebrated World Environment Day with a forum and open house on June 5, featuring music and fine art presentations. The program was composed to inspire greater awareness of the importance of environmental responsibility, and to enlist the help of those attending to get others to know and follow precept 12 of The Way to Happiness: "Safeguard and Improve Your Environment."
A musical performance set the mood at the opening of the program, and the Social Reform Officer of the Church welcomed guests and outlined the purpose of World Environment Day, giving an overview of the extent of the environmental challenges we face today.
She introduced artist William Vive, whose paintings celebrating the beauty of "Mother Earth" were on display. Vive appealed to those present to get involved in preserving the environment.
A counterpoint to the level of environmental destruction confronting us today was the theme of this year's World Environment Day: "Seven Billion Dreams. One Planet. Consume with Care."
The Executive Director of The Way to Happiness Foundation for Latin America demonstrated how The Way to Happiness is a tool anyone can use to create positive, meaningful change—and that with each of us doing our part and working together, we can undo the environmental destruction our civilization has caused, and leave a legacy of beauty to future generations.