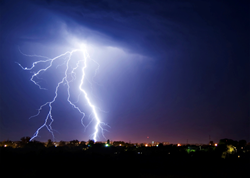 LINCOLN, R.I. (PRWEB) June 23, 2015
Sunday, June 21, through Saturday, June 27, is National Lightning Safety Week, and Amica Insurance is sharing tips to help keep you and your loved ones safe.
The National Oceanic and Atmospheric Administration (NOAA) recommends taking shelter the moment you hear thunder, as lightning is within striking distance at that point. Amica is also sharing the following lightning safety tips from the NOAA:
If indoors:

Stay off corded phones, computers and other electronics that put you in direct contact with electricity.
Avoid all plumbing, including faucets, sinks and bathtubs.
Stay away from windows and doors.
Don't lie on concrete floors or lean against concrete walls.
If stranded outdoors without shelter nearby:
Immediately leave elevated areas, such as hills, mountain ridges or peaks.
Never lie on flat ground or take shelter beneath an isolated tree.
Stay away from all bodies of water.
Avoid objects that conduct electricity, such as barbed wire fences, windmills and power lines.
About Amica Insurance
Amica Mutual Insurance Co., the nation's oldest mutual insurer of automobiles, was founded in 1907. The company, based in Lincoln, Rhode Island, is a national writer of auto, home, marine and umbrella insurance. Life coverage is available through Amica Life Insurance Company, a wholly owned subsidiary. Amica employs more than 3,400 people in 44 offices across the country. For more information, visit Amica.com.
CONTACT: Vince Burks, Corporate Communications, 50 Amica Way, Lincoln, RI 02865-1155, 800-652-6422, ext. 24563
Twitter: Amica
Facebook: Amica Mutual Insurance Co.