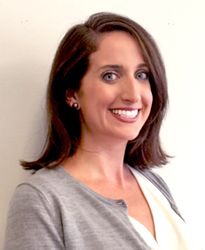 Laura Simmons and Danielle Theroux are well-known and respected throughout the D.C. area as innovators in their respective spheres
Arlington, Va. (PRWEB) June 23, 2015
Government contracting marketplace Eastern Foundry today announced the hiring of Laura Simmons as the organization's first director of operations. Simmons will lead the day-to-day operations of the organization's space and programs, including trainings, networking events, mentorship programs and more. Simmons joins Eastern Foundry after a successful tenure with the D.C.-based startup, Social Tables. There, Simmons was the 6th hire at Social Tables, which has grown to 90 employees during the past three years. During her tenure, she led a team that grew sales and marketing efforts in the higher education realm. She also helped to shape the company's overall culture, leading projects like office design and team building events.
"I was compelled to join Eastern Foundry once I saw their vision for connecting startups with the government," said Simmons. "My previous experience with startups gave me exposure to how difficult navigating government purchasing can be, so I'm excited to join a team that is combatting a huge problem in connecting innovative tech companies with our government."
Eastern Foundry has also hired Danielle Theroux as its creative director. In this new role, Theroux will guide the organization's brand strategy and lead the creative team in supporting its member companies' design and marketing needs. Theroux comes from a multi-disciplinary design background. She studied and graduated from the Corcoran College of Art and Design, and most recently served as art director for an advertising agency where she built and led the creative team.
"Laura Simmons and Danielle Theroux are well-known and respected throughout the D.C. area as innovators in their respective spheres," said Andrew Chang, managing partner at Eastern Foundry. "These two leaders will be integral to our memberships' success and key contributors to our organization as we disrupt the government procurement process and push for gov-tech innovation."
Eastern Foundry is a first-of-its-kind marketplace where primes, agencies and small businesses convene to exchange ideas and information, conduct business and stay on the cutting edge. It provides all of the resources of a modern technology incubator – including physical workspace, training, and services that are specifically tailored to meet the unique needs of the small businesses and primes in government contracting.
Since opening in December, Eastern Foundry has filled to capacity, gained 52 members and launched their educational training academy. Last week, Eastern Foundry hosted its first bi-annual Foundry Cup, a three-day innovation competition in which companies with technologies and services that help detect and treat PTSD convened to share ideas, get exposure to customers and compete for cash prizes.
About Eastern Foundry
Eastern Foundry is a first-of-its-kind marketplace where technologists, government contractors and agencies convene to exchange information and opportunities, find teaming partners and conduct business. Providing all of the resources of a modern technology incubator, Eastern Foundry offers physical workspace, services, trainings and information that are tailored to help large and small businesses achieve government contracting success. To learn more about Eastern Foundry, visit Eastern-Foundry.com, follow us @EasternFoundry or stop by our location in Crystal City.
###