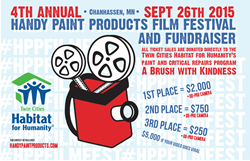 Every year, we're excited to see the creativity and talent that contest entrants bring to their videos.
Minneapolis, MN (PRWEB) June 23, 2015
Bercom Incorporated, the national manufacturer of HANDy Paint Products, is inviting do-it-yourself painters (and aspiring Hollywood directors) to enter its 4th Annual HANDy Paint Products' Online Video Contest.
To enter, contestants must submit a short video (1 ½ - 4 minutes long) in which a HANDy Paint Product is used in some way, shape or form (as long as it's legal). All HANDy Paint Products are acceptable for use in a video, including the popular HANDy Paint Pail, Paint Tray, Paint Cup, Roller Cup, Roller Pail, and Ladder Pail.
"Every year, we're excited to see the creativity and talent that contest entrants bring to their videos," says Mark Bergman, President and CEO of Bercom Incorporated. "We look forward to seeing even more innovative ways to use HANDy Paint Products during the 2015 contest!"
The HANDy Paint Products Online Video Contest grand prize is $2,000 in cash. Second place receives $750 and third place receives $250. The top three winners also each receive a GoPro camera. All contest entrants receive $50 worth of free HANDy Paint Products. An additional $5,000 prize will be given to whoever from the Top 10 finalists is able to make his or her video "go viral" on the HANDy Paint Products YouTube channel by the end of 2015 (e.g. with 50,000 views or more).
The deadline for video entries is August 31, 2015. Entry details can be downloaded online or call toll-free with questions about the contest at 877-464-1170.
Finalists will be featured at the September 26, 2015, HANDy Paint Products Film Festival taking place at Bercom headquarters in Chanhassen, MN, where the Top 3 videos will be chosen by local celebrity judges. The Bercom-sponsored event is open to the public and all donations made at the Film Festival will go directly to the Twin Cities' Habitat for Humanity paint and critical repairs "A Brush With Kindness" program. In 2014, the festival raised $4,000 in donations for the Alzheimer's Association of Minnesota. Registration details are currently available at handypaintproducts.com.
About HANDy Paint Products
HANDy Paint Products is a painting supplies product line developed by Bercom Incorporated. Mark Bergman founded Bercom in 2002 after realizing the need for making painting easier. With his old Folgers® coffee can-turned-paint bucket as inspiration, the HANDy Paint Pail was born. Bercom is located in Chanhassen, Minn. Its line of 15 HANDy Paint Products can be found at most home centers, paint stores, and hardware stores across the country as well as in Canada, Australia, and Europe. Learn more about HANDy Paint Products by visiting HandyPaintProducts.com. See demonstrations on YouTube and follow the brand on Facebook, Twitter, Pinterest and Instagram.
# # #