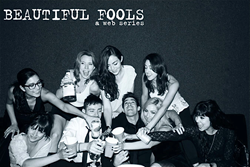 This is a story worth sharing, not least because it comes from a place of true experience. For us, it's real.
Los Angeles, CA (PRWEB) June 23, 2015
Created by award winning filmmaker Steven A. Soria, Beautiful Fools marks another step forward in the web series format. With a bold cinematic style that recalls the early work of Steven Soderbergh and Quentin Tarantino, Beautiful Fools explores the joys and pains of emerging adulthood in booze-soaked Los Angeles.
Beset by recent tragedy, reluctant hero Peter drinks his way to self-destruction by way of whiskey, vodka, and well, anything he can get his hands on. Told mostly through the eyes of his fellow partiers (and more than occasional nurses), the story nestles its audience in a love-hate relationship with the oft-drunk Peter, played by UK-native Dominic Best. As Peter ruins his relationships through drunken antics, one can't help but feel sympathy. Moreover though, the audience remains on his side. Such is the remarkable talent of Best, who brings lovable humanity to a character one ought to hate.
With awkward laughs and brutal honesty, Beautiful Fools fills a space in the digital world that has long been neglected. "This is a story worth sharing," says writer and producer Anna Salinas, "not least because it comes from a place of true experience. For us, it's real."
"Stories like this can be difficult to navigate, so it was important for us to root it in a truth, and as a result I kind of had to indict myself and my friends. It was embarrassing and painful to revisit, but the reality of those instances were vital to articulating the truth, and that truth lent itself to a cinematic landscape while also being applicable to short-form serialized storytelling", explains Soria.
The show's honesty is coupled with a strong art house feel that harkens back to the 90's "Indie Film" Movement. Creator Steven A. Soria is aided by the cast's skillful performances and a tight script that flows between comedy and drama, ultimately showing us that there is no one way to mature. In the end, Beautiful Fools leaves everyone raising a glass to being young, lost, and of course...foolish.
Watch all 9 episodes starting July 21st.
http://www.beautifulfoolstheseries.com