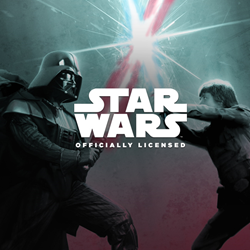 This is a really exciting announcement for Design By Humans.
Chico, CA (PRWEB) June 24, 2015
Continuing its trend of offering amazing apparel from the biggest names in film, gaming and entertainment, Design By Humans (DBH) traveled to a galaxy far, far away to and brought back officially licensed Star Wars and Lucasfilm Apparel merchandise to the good people of the Internet and the DBH community.
This announcement comes in anticipation of the December 18, 2015 release of Star Wars: The Force Awakens, directed by J.J. Abrams, and offers a fantastic opportunity for the DBH community of artists, as well as their customers.
"This is a really exciting announcement for Design By Humans," says President Jeff Sierra. "It also presents a major opportunity for DBH artists and for anyone who is a fan of what is arguably the greatest movie franchise in history."
At the request of DBH, popular artists like fourscore, kdeuce, Hydro74, Wotto and jimiyo endured extensive Jedi training under the tutelage of Yoda and Obi Wan Kenobi to bring you their creative takes on the world of Star Wars and its vibrant characters. Shop fantastic designs featuring the likes of Luke Skywalker, Han Solo, Darth Vader, Boba Fett, Darth Maul and many more. You can shop the collection here.
To celebrate the announcement, DBH has released a video featuring the Rebel Alliance logo being printed onto a T-Shirt with the help of R2-D2. You can view the video here.
As with other DBH designs, all Star Wars artwork will be available as T-Shirts, tank tops, hoodies, crewnecks and zip-up sweatshirts for men and women. DBH strives to offer a wide variety of customizable products using the most efficient and eco-friendly DTG printing practices.
About Star Wars
Star Wars is an American film franchise created by George Lucas. The first film in the series was released in 1977 and became a worldwide hit. It was followed by two sequels, The Empire Strikes Back (1980) and Return of the Jedi (1983). A prequel trilogy The Phantom Menace (1999), Attack of the Clones (2002) and Revenge of the Sith (2005) followed. A new trilogy is expected in the coming years, starting with The Force Awakens to be released December 18, 2015. The series has spawned an extensive media franchise including books, television, video games and comic books.
About Design By Humans
Design By Humans was started in 2007 with the simple vision of bringing artists from around the globe together. By giving them a platform to produce wearable art that tells a story, they can strengthen humanity and inspire life through creativity and design. The DBH Collective initiative is inspiring amazing artists and giving them a unique foundation to share artwork through a personal storefront. With over 25,000 unique designs on T-Shirts, tanks, sweatshirts, hoodies, kids apparel, phone cases and art prints, DBH offers their customers truly customizable, high-quality products.