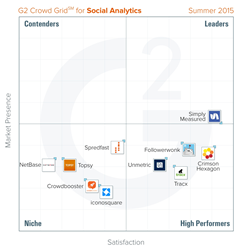 CHICAGO (PRWEB) June 23, 2015
The first Grid℠ report for social analytics platforms, published today by business software review site G2 Crowd, ranks 10 products to help purchasers in their selections. In the Grid, Simply Measured earns Leader status and tops overall satisfaction rankings in the crowdsourced report.
Based on direct user feedback the report identified several key trends that G2 Crowd believes will define the social analytics segment in 2015:

Users indicate a desire for robust, all-in-one platforms to handle all their needs, not only regarding different social media functions (i.e. analytics, publishing/managing, monitoring), but also for different social networks.
In its present state, the social analytics space is fragmented and comprised mostly of separate best of breed tools – with the result that users lack comprehensive suites that can manage a majority of tasks they require
Users are noticing discrepancies between the data provided through third-party social analytics tools and the analytics provided through the networks themselves. In some instances this may potentially impact the accuracy of the insights provided.
Industry watchers should expect further acquisitions in the space as vendors look to expand their portfolios and gain competitive market share
"Based on user feedback it is clear that the new mandate for social analytics companies is to deliver a single version of the social truth for their clients, comments Tim Handorf, Co-Founder and President of G2 Crowd. "Much like the challenge of business intelligence in years past, buyers are impatient with having to cobble together all the various perspectives on their customers and stakeholders from different tools. The new race in social analytics is presenting a single, reconciled view of social activity in a way that provides a single, trusted source of actionable insight."
The Grid℠ was created from G2 Crowd's software review platform, which compiles customer satisfaction as reported by users, along with vendor market presence as determined from public and social data, to rank products.
The Summer 2015 report is based on more than 200 reviews written by business, marketing and analytics professionals.
Social analytics products are used for tracking, measuring, and reporting on social media account performance. Tools might focus exclusively on a single social media site, such as Twitter or Instagram, or provide capabilities to analyze data across multiple platforms. Though a handful of social media sites provide some analytical functionality via first-party tools (i.e. Facebook Insights), third-party social analytics software dives deeper into data to provide further insights such as follower demographics, influencer identification, or competitor analysis.
Of the more than 60 software vendors listed in G2 Crowd's Social Analytics category, the 10 ranked products each received 10 or more reviews to qualify for inclusion on the Grid℠.
To qualify as a Leader, a product must receive a high customer satisfaction score and have substantial market presence. Simply Measured was named a Leader, and also had the highest overall customer satisfaction score. High Performers have high customer satisfaction scores with a smaller market presence than Leaders. Crimson Hexagon, Followerwonk, Tracx and Unmetric were named High Performers.
Across all social analytics tools, reviewers reported the product they use meets their requirements at an average rate of 82%, and on average reviewers said they were 83% likely to recommend the product they use.
Some highlights from the social analytics reviews on G2 Crowd:
"Simply Measured is by far the best aggregator of raw data for social content metrics. It displays a great visualization…[but the] prize lies in the raw data collection in reports such as the 'cross-channel' or 'all-channels' [reports,] which reformats raw data into an easily analyzable format."

Christopher Lorn, Senior Analyst at Big Spaceship
"[Crimson Hexagon's Opinion Monitor]... has given me the ability to structure social data in the most sophisticated way I have come across, meaning I can dive into data beyond the usual volumes and automated sentiment that is the prerequisite in most social analysis tools."

Manvir Singh, Social Analyst at Cake Group/HAVAS EHS
"Followerwonk is easy to use, provides an intuitive interface, and presents data in such a way as to inform the user's decisions about when and where to target their audience on social media."

KC Procter, Partner Resources Associate at Starbucks
"Very impressive social media tool that gives you the power to gauge campaigns from both a macro and granular standpoint. I work in a large company, and Tracx gives me everything I need to maximize and monitor my social media campaigns."

Adam Dempsky, Online Video Manager at Electronic Arts
"Unmetric provides the key metrics and views required for analysis of owned communities across a variety of channels in a very friendly user interface. What separates their solution from many others, however, is the pre-written 'insights' and 'highlights' attached to most graphs, which auto-magically find significant outliers and display them in plain English."

Omri Duek, Social Analytics at The Coca-Cola Company
Satisfaction rankings are generated from the user reviews, and market presence is calculated from vendor size, market share, and social impact. Based on a combination of these scores, each software solution is categorized as a Leader, High Performer, Contender, or Niche.
Premium social analytics product research access can be purchased on the site for $599. These offer the original data for filtering and weighting, as well as individual profiles of each platform with the most helpful positive and negative social analytics platform reviews, detailed company information, user satisfaction ratings, feature scores and customer metrics. Future refreshes of the Grid℠ will provide updated rankings based on the latest reviews and social data.
Be sure to check out the new Grid℠ for the best social analytics tools and subscribe to the premium research.
_______________
About G2 Crowd, Inc.
G2 Crowd, the world's leading business software review platform, leverages its 30,000-plus user reviews to drive better purchasing decisions. Technology buyers, investors, and analysts use the site to compare and select the best software based on peer reviews and synthesized social data. Co-founded by the founder and former executives from SaaS leader BigMachines and backed by more than $4.5 million in capital, G2 Crowd aims to bring authenticity and transparency to business technology research. For more information, go to G2Crowd.com.