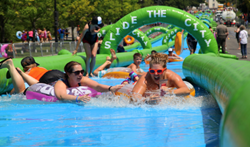 REXBURG, ID (PRWEB) June 23, 2015
Slide the City™ is making a splash in locations all over the country. On July 11, this massive water slide will be making a stop in Rexburg. This family-friendly event allows participants to speed down city streets on inner tubes.
"We spend so much time walking, running and driving around our cities," said Slide the City™ co-founder TR Gourley. "But how many times have you been able to say you slid down your city streets?"
Seventh Street will be completely transformed as asphalt is disguised by a slick vinyl surface. Idahoans will trade their jeans and T-shirts for swimsuits in order to speed on this king-sized Slip 'N Slide which spans three city blocks. The community can cool off while enjoying the nostalgia for childhood summers past. This event strives to encourage families and friends to get outside and stay active during the warmer summer months.
Slide the City™ partners with a local charity for every event. They are excited to donate a portion of event proceeds to Rexburg Rotary Club of Idaho. This club, founded in 1920, is a service organization designed to provide service to: the community, people of the world at large, professions and the club.
"It is always even better when you can have fun knowing you're giving back to the community," said Slide the City™ volunteer coordinator Katie Orndorff. "We have enjoyed working with the Rexburg Rotary Club, and appreciate the opportunity to engage with local organizations for our events."
Sliding starts at 10 a.m. Participants can purchase a one, three or unlimited slide pass and are encouraged to sign up before June 27 to take advantage of the current promotion. Pricing starts at $21.
Children over 5 years of age and those who are at least 46 in. tall are welcome to slide! Visit http://www.slidethecity.com/events/rexburg/ for more information about dates and locations or check out what fans have to say on the Slide the City™ Facebook page at http://www.facebook.com/slidethecity.
About Slide the City™
The first event of its kind, Slide the City™ has seen massive growth since it started in 2014. This original concept went viral when the video [https://www.youtube.com/watch?v=bnKzoh3zDEw was released, and this year promises to be bigger, better and wetter. Slide the City™ is on track to produce more than 100 events in the US and Canada and has entered various other countries around the world. Slide the City™ is a family-friendly event bringing 1,000 feet of padded vinyl onto city streets. This giant three-lane slide travels around the country so people from coast-to-coast can have the slide of their lives!