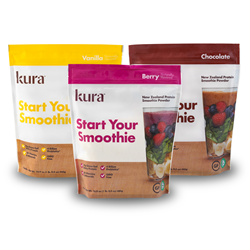 Los Angeles, CA (PRWEB) June 25, 2015
Kura is proud to announce they were selected as a finalist in the "Best Smoothie Booster" category of Delicious Living Magazine's 2015 Best Bite Awards.
"We received thousands of nominations for the Best Bite Awards this year," says Delicious Living's Senior Food Editor Jenna Blumenfeld. "The 99 winners and finalists rose to the top for their clean and consciously sourced ingredients, excellent taste, and supercharged health."
To determine the winners, natural retailers, manufacturers, and readers nominated individual products for consideration. Delicious Living's experienced editorial team assessed products based on a variety of factors including flavor, ingredients, nutrition, sourcing, and leadership in packaged foods.
Kura has reinvented breakfast by creating a Protein Smoothie Powder unlike anything on the market. Each serving provides 14 grams of pure New Zealand dairy protein, vitamins and minerals, with great taste and ultimate convenience. Kura Protein Smoothie Powder launched in January 2015 and is now available at Sprouts Farmers Market locations, Whole Foods (Southwest), other various natural grocers and on Amazon.com.
"We are excited the experts at Delicious Living have recognized Kura in the smoothie booster category," said Bridget Coates, Director of Kura Nutrition. "We believe there is a great need for food products like Kura, which provide high-quality, grass fed dairy protein with the addition of high quality nutritionals, including 4 billion CFU probiotics and Omega 3's. Kura can be added to your favorite blend of fruits and vegetables or used as a quick snack with a liquid such as coconut water or milk, almond milk, juice or even water."
Kura has the following nutritional benefits:

14 grams of Kura's pure, highly bioavailable grass fed protein
100% RDA of Vitamin D, C, B6, B12 and six other vitamins & minerals
26 essential vitamins and minerals
5 grams of fiber
5.4 grams or 4 times the Omega-3's found in a single serving of salmon
4 billion CFU Active Probiotics
Prebiotics
GMO Free
Gluten-Free
No Added Sugar
No Preservatives
No artificial sweeteners, flavors or colors
The awards will be published in Delicious Living's July issue, and are available online here: http://bit.ly/2015BestBite
ABOUT KURA
"Your Smoothie Just Got Better" - Kura makes protein smoothie powders that combine sound nutrition, great taste and ultimate convenience. Every Kura smoothie is packed with 14 grams of pure New Zealand dairy protein, vitamins and minerals, probiotics and prebiotics, Omega-3's and is GMO free. Unlike protein supplements, which often taste chalky and gritty, Kura is a protein smoothie with excellent taste and mixability. Kura provides a delicious, nutrient-rich start to your family's busy day as well as being perfect as an on-the-go mid-day snack or recovery smoothie. For more information, visit http://www.kuranutrition.com.
Facebook: https://www.facebook.com/kuranutrition
Twitter: https://twitter.com/KuraNutrition
Pinterest: http://www.pinterest.com/kuranutrition/
Instagram: https://instagram.com/kuranutrition/
ABOUT WHITE CLOUD DAIRY INNOVATION LTD.
White Cloud Dairy Innovation Ltd. is a privately held New Zealand-based nutritional dairy products company based on developing high quality food brands for US consumers. Kura is the company's first brand to launch in the U.S. For more information, visit http://www.whitecloud.co.nz/.
ABOUT NEWHOPE360
NewHope360.com and deliciousliving.com are brought to you by New Hope Natural Media, the leading media resource and information provide for the natural, organic and healthy products industry, with print, in person/event, and e-business products and services.