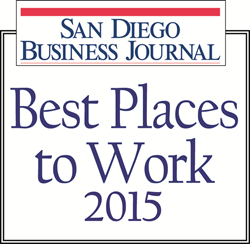 Our employees are our most valuable resource.
San Diego, California (PRWEB) June 24, 2015
Digital advertising agency, Geary LSF, is pleased to announce it has been named one of the Best Places to Work in San Diego for 2015. The annual list, compiled by the San Diego Business Journal, is open to companies of all sizes with offices in San Diego County. Official rankings will be released at the awards banquet in August.
The survey and awards program is designed to identify, recognize and honor the best places for employment in San Diego, benefiting the county's economy, its workforce and businesses. The list is made up of the top 100 companies.
"We are beyond excited to receive the honor of being named a Best Place to Work in San Diego" says Anna Mikituk, Director of Human Resources at Geary LSF. "We believe that our employees are our most valuable resource as a company and pride ourselves in investing in them, their workspace, and our company culture as a whole."
Recognition as a Best Place to Work in San Diego is determined by a two-part process involving an evaluation of the company's workplace policies, practices, philosophy, systems and demographics, and an employee survey to measure current employee experience. The combined scores of the two parts determined top companies and rankings. For more information on the Best Places to Work program, visit http://www.BestPlacesToWorkSD.com. For information on joining the Geary LSF San Diego team, please visit the agency careers page.
About Geary LSF
Geary LSF is a full service digital marketing agency headquartered in San Francisco, with additional offices in San Diego, Chicago, Boston, Philadelphia and St. Louis. Specializing in an omni-channel marketing approach, the team turns digital ambitions into business results for more than 450 brands worldwide including: Bumble Bee Foods, Target, Aramark and several others. For more information, please visit http://www.gearylsf.com. For New Business Inquiries: sales@gearylsf.com