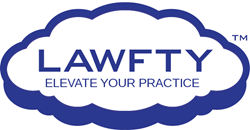 Lawfty has been an integral part of our firm's growth and success. They are on the cutting edge! - Law Offices of Arash Khorsandi
New York, San Francisco (PRWEB) June 22, 2015
For the past two years, Lawfty has been developing a system that connects new clients to plaintiffs' law firms, using a combination of digital advertising and mobile/cloud communications. The group of talented software developers, lawyers, data scientists, user experience experts and graphic designers has propelled itself to success, by consistently and predictably sending cases to 8 mid-sized and large markets across the country.
Today, Lawfty has announced that it is expanding the platform to law firms all around the United States.
According to CEO (and lawyer) Todd Richheimer, "Lawfty is looking to help personal injury lawyers that are tired of getting ripped off by technology vendors and lead generation companies. With a focus on data and cutting edge technology, and a business model that aligns 100% of our interests with the interests of our partner firms, Lawfty is the breath of fresh air personal injury lawyers have been waiting for."
Lawfty was founded with this sentiment at its core. It is a case generator, not a lead generator. Like the lawyers it serves, lawyers that work on contingency, Lawfty is judged on its results and not merely on its effort.
Lawfty is targeting the next wave of expansion into 5 major markets (Houston, Miami, Dallas, San Antonio, and Phoenix) by the end of 2015, and is looking for a handful of growth-oriented personal injury firms to partner with.
Find out more at http://www.lawfty.com/expansion, or reach out on Facebook, LinkedIn, or Twitter @getlawfty.