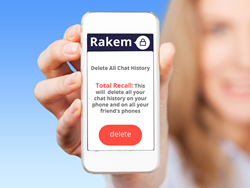 With the simple push of a button, RakEM ensures every text message a user sent was never sent, and there is no record of any of those messages anywhere at all.
New York, NY (PRWEB) June 23, 2015
Raketu Communications, developer of RakEM the world's most secure cross platform mobile messaging application, asks consumers to imagine they are James Bond out to save the world, or perhaps a 22-year-old recent college grad, charting a course to conquer it. Like the average 18-24 year-old, they send over 2,000 text messages every month (according to Experian). After six months of texting, or worse sexting (if they are like 46 percent of Millennials engaged in sexting, according to a recent study by Raketu), over 12,000 text messages sent to a revolving troop of unseemly bedfellows (remember they are "Bond, Jane Bond"), there is no quantifying the extent of potentially damaging Top Secrets exposed that could undermine the free world, if not their newly appointed job as Wall Street Trader or Bergdorf Goodman buyer. So what do they do, cull through 12,000 texts in search of the errant few that may collapse their meticulously constructed house Of cards? Absolutely not. There's only one thing they can do, and thank goodness for RakEM's newest feature – Total Recall.
Here Is How It Works
Powered by RakEM's patent-pending Serverless Secure™ mobile messaging encryption technology, all user-messaging data is encrypted and maintained entirely in-app, so no server ever sees or stores user messages. Note: every other messaging app on the market relies on servers that see and/or store user-messaging data; therefore, user/member privacy can never be entirely secure within these competing platforms -- a critical concern for the majority of Americans, as 92% of consumers say they are concerned about their privacy online (according to Truste's US Consumer Confidence Index).
Additionally, users who initiate messages "control" all their content end-to-end, so content cannot be forwarded, shared, or copied in any way. Relying again on RakEM's patent-pending Serverless Secure technology, RakEM users now have the first-time-ever ability to simply Delete All Content. Deleting All Content, removes that content not only from the user's own device, but also all devices these messages have ever been delivered to anywhere in the world – in other words, Total Recall.
"Whether you are James Bond, Jane Bond, or maybe you are not bonded at all, with our new Total Recall feature, RakEM eliminates any possibility of a Smoking Gun," said Greg Parker, CEO of Raketu. "With the simple push of a button, RakEM ensures that every text message a user sent was never sent, and there is no record of any of those messages anywhere at all."
To find out if RakEM is secure enough to power all of your cross platform mobile messaging needs, download the RakEM app.
About Raketu Communications Inc.
Raketu Communications Inc. makes highly secure, cross platform messaging and communication fun by developing leading edge device-to-device direct Internet protocol applications for consumers and for business across mobile devices, tablets, desktops and laptops. Powered by Raketu's patent-pending Serverless Secure™ encryption technology and system architecture, Raketu's RakEM mobile messaging platform supports text, voice, video, and photo, among other private and encrypted messaging media. The company currently has users in over 150 countries around the world. For more information visit the company's website at http://www.Raketu.com.
Raketu is a registered trademark of Raketu Communications Inc.