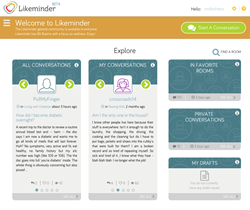 "Mental health issues are the largest impediment to happiness and fulfillment. Standing in the way of helping our clients are matters of cost, access, and an unwillingness to come forward to join in a conversation"
New York, NY (PRWEB) June 23, 2015
Likeminder today announced the launch of its new social network for the private side of life, available free via website and iOS App.
Everyone is online and everyone has personal issues, but there's no good place to deal with personal issues online. Likeminder's new community is a safe place where members can tap the collective empathy and support of their peers to address life's emotional issues, because the right kind of sharing can help you feel better and prevent small issues from becoming big ones.
With today's release, there's no easier way for people to share their personal feelings and advice wherever and whenever it matters most.
"We're thrilled to introduce Likeminder through our new website and mobile app for Apple iOS devices. Likeminder has been a personal passion of mine for years, and today's launch comes after more than 18 months of product development and testing. We are especially grateful to our early users whose feedback has been essential to this launch. Keep sending us your feedback and ideas! Because it is your voice and honesty that is quickly turning Likeminder into the most real place to share in our digitally connected lives." said Likeminder CEO and Co-founder Shu Eliovson.
Likeminder is a special community that emerges through conversations, not through invitations to connect with social and business colleagues. On Likeminder, the connections are emotional. Every day on Likeminder, you'll find people:

Connecting with others like them based on personality and values
Talking openly about their personal goals, aspirations and obstacles
Receiving and sharing positive support, feedback and advice
Safely exploring new ideas and perspectives on life
Why Likeminder is Different
Identity-based social networks are just not designed for sharing personal issues. Health forums and support groups are too clinical, fragmented and impersonal. And anonymous apps are too random and careless. Conceived and created from the ground up with wellness in mind, Likeminder was developed in conjunction with a panel of licensed mental-health experts with a deep understanding of the way online sharing can help people connect, grow and heal.
Likeminder's anonymous profiles ensure privacy but allow members to find and start conversations with others like them, which is the essence of community. Posts are moderated to maintain a community that's respectful, protects privacy, and preserves the basic decorum necessary for real and meaningful discussion. And a unique Escalation Protocol for handling risky content keeps a special eye out for members who might be in personal distress or danger.
"Mental health issues are the largest impediment to happiness and fulfillment. Standing in the way of helping our clients are matters of cost, access, and an unwillingness to come forward to join in a conversation," notes Don Copeman, an early advisor to Likeminder and Founder of Copeman Healthcare. "Likeminder removes these obstacles. It is free, encourages participation and provides a safe place to communicate when a person is ready."
An Invitation to Try Likeminder
Visit Likeminder.net for the most comprehensive access to your own personal community and interests. And try the iOS App, available from the Apple store. The App makes it even easier to join the growing Likeminder community and stay up to date on your favorite rooms and conversations wherever you are.
Whether you're interested in Likeminder for yourself, someone you care about or a group you administer, Likeminder helps you see more clearly, act more freely, and love more deeply. And if it does, please pass it on to your friends!
About Likeminder
Likeminder's mission is to help people grow by being there for each other. We offer a community where folks can find others like them and feel safe to open up and discuss life's little issues, before they become big ones. Likeminder helps people share their feelings and advice to improve their emotional well-being and become more fulfilled in whatever they do. We also offer custom services to help organizations that are interested in improving the emotional wellbeing of their employees, students or members.
Contact Information:
Name: Shu Eliovson, CEO and Co-founder
Phone: 201-467-4300
Email: Info(at)likeminder(dot)net
Website: http://www.likeminder.net
iOS App: https://itunes.apple.com/us/app/likeminder/id981475008?mt=8
Press Kit: http://home.likeminder.net/press-kit/
Follow Us:
https://www.facebook.com/likeminder
https://www.linkedin.com/company/likeminder
https://twitter.com/LikeminderInc