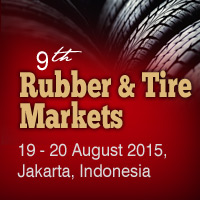 The expanding Asian tire market, rising demand for passenger cars and commercial vehicles and an imminent rubber surplus will steer talks at 9th Rubber & Tire Markets.
Jakarta, Indonesia (PRWEB) June 30, 2015
Slated to be an excellent platform for rubber and tire industry majors seeking growth in Asian markets, the 1.5 day summit showcases country specific sessions on: 'Indonesia Rubber & Tire Market Outlook & Updates' shared by Mursosan Wiguna, Human Resources Director, PT Synthetic Rubber Indonesia (SRI); an update on 'Indian SBR market: Potential, Challenges and Future Outlook' by Bishwajeet Bose, General Manager- Marketing, Indian Synthetic Rubber Ltd and an address on its European venture by V Krishnaram, CEO & Joint Managing Director, Emrald Resilient Tyre Manufacturers.
Also in the agenda are papers on 'Global Rubber & Tire Market Outlook' by Gerard Stapleton, Head of South-East Asian Research, LMC International and key analysis of 'Butadiene Market Outlook' by Andrew Lee Fagg, Principal, Nexant Singapore.
Other notable sessions include:

Green Mobility and Sustainability – Dr. Rabindra Mukhopadhyay, Director (R&D), JK Tyres
Replacements Tire Market Outlook & Trends – Sanjeev Kumar, Associate Vice President -Technical Sourcing, Apollo International Limited
South East European Tyre and Automotive Market: Overview, Challenges and Investment opportunities – Senior Representative, GAJ d.o.o.
Recent Developments in Polyolefin Elastomers – P.S. Ravishankar, Senior Staff Engineer, Exxonmobil Chemical Co
Rubber/Tire Processing Oil Market – Dr. Herbert Fruhmann, Market Manager Tyre Oils, Nynas AB
Challenges to the Development of Recycling Technology in Rubber-Based Manufacturing Today – Jayan Sekhar, Executive Director, Green Rubber
Global Economic Outlook – Andry Asmoro, PT Bank Mandiri
Visit 9th Rubber & Tire Markets website for more details.
For registrations and queries, contact Ms. Huiyan at +65 6346 9113.