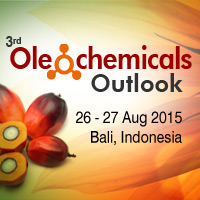 3rd Oleochemicals Outlook will showcase major companies operating in Asia and also others that have recently entered the markets.
Bali, Indonesia (PRWEB) July 07, 2015
As companies continue to set up oleo plants in Asia, 3rd Oleochemicals Outlook will showcase major companies operating in Asia and others that have recently entered the markets. Emery Oleochemicals' Group CEO Ramesh Kana will present a keynote address on "Moving into Specialties to Drive Margins." Next is Chairman & CEO of PHI Group Henry D. Fahman, who will share the latest on its oleochemicals project in Johor with a presentation on "Green Technology: Use Of Non-Edible Feedstock to Produce Green Oleochemicals Products for the Oil & Gas Industries."
They will be joined by John YS Lim, General Manager – Asia, Elevance Renewable Sciences with a session on "Commercialisation of Novel Specialty Chemicals from Natural Oils" and Dato' Mohd Emir Mavani Abdullah, Group President/CEO of Felda Global Ventures talking about "Diversifying Beyond Palm Plantation."
Delegates can also listen to a session outlining the slowdown in China's economy and its impact on the oleochemicals industry via a session on "China Oleochemicals Market Outlook" by Ray Wang, General Manager, Hangzhou Oleochemicals.
That aside, a detailed report on "Palm Oil Market & Investment in Indonesia" will be shared by Mohamad Fadhil Hasan, Executive Director, Indonesian Palm Oil Producers Association (GAPKI) while a key presentation on the "Status of RSPO Certification and how it Influenced the Industry" will be delivered by Salahudin Yaacob, Technical Director, RSPO.
Other notable sessions at the conference include:

Global Economic Outlook – David Carbon, Chief Economist, Managing Director for Economic and Currency Research, DBS Bank Ltd
Overview of Oleochemcials Industry - Challenged by Crude Oil Prices? – Chris de Lavigne, Global VP, Industrial Practices, Frost & Sullivan
Biodiesel Industry Outlook in Low Crude Environment – Togar Sitanggang, Secretary General, Indonesian Association of Biofuel Producers (APROBI)
Sustainable & Strategic Sourcing Strategy – MS Sriganesh, Head of Sourcing, Galaxy Surfactants Ltd
Glycerine's Supply Demand Balance – Where Next? – Dr. Lucia Castro Diaz, Senior Consultant, LMC International Ltd
Food Emulsifiers Market & Outlook – Jayen Shah, CEO, Fine Organics Industries Pvt. Ltd
View 3rd Oleochemicals Outlook website for more details or contact Ms. Grace Oh at +65 6346 9147.