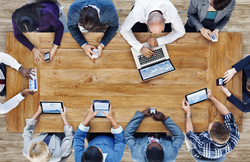 "We are here to let busy event planners know we can help them create better presentations by enhancing interaction and communication between speaker and audience," commented Fathi Hakam, CEO & President, Lintelus
Mission Viejo, CA (PRWEB) June 23, 2015
June 23, 2015 - Lintelus, a presentation solution provider, will host booth #500 and will also present the latest version of its highly interactive audience engagement solution at Biz Bash Expo, to be held June 24 at the Los Angeles Convention Center. Biz Bash's annual conference in Los Angeles is designed to inspire and inform attendees about the latest developments in the event industry.
Lintelus will be showcasing their digital file sharing technology, which allows presenters and meeting hosts to share their presentation to anyone on any device. Attendees can then take notes and download the presentation with the slides using their own smartphone, tablet or laptop. With Lintelus, presenters, brand owners and event producers can increase audience interaction and engagement through a simple to use browser-based file solution.
"We look forward to participating at BizBash Expo, a great event which covers the latest ideas and trends in the event planning industry," commented Fathi Hakam, President & CEO of Lintelus Inc. "We are here to let busy event planners know we can help them create better presentations by enhancing interaction and communication between speaker and audience, which in turn increases the overall effectiveness of their event. We are proud to offer a robust solution that takes file sharing to whole new level."
For more information on how to schedule a meeting with our team at BizBash or to see a demo, contact us at info(at)lintelus(dot)com or visit our website at http://www.lintelus.com.
About Lintelus Inc.
Lintelus is changing the way live meetings and presentations are experienced with interactive features including slide sharing, digital note taking, live polling and social media. All features are designed to energize live file sharing presentations, engage participants and personalize the meeting or event in a collaborative multi-screen environment. For more information or for a live demo, please contact us at info(at)lintelus(dot)com.
About BizBash
BizBash is the annual event to connect with more than 1,300 event and meeting professionals. Packed with innovative ideas from thought leaders and creative thinkers, BizBash offers the latest trends to create memorable events. This one day event is full of learning, engagement, connection, and inspiration designed to bring you outside the everyday, engage your mind, and change the way you look at events.
For media inquiries, contact:
Dina Scaglione, Director of Marketing
949.910.9401