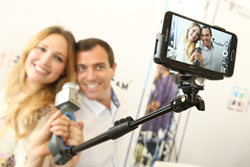 The Solocam is a selfie stick with an integrated High Definition microphone. It allows you to record and broadcast your videos with the best sound they deserve
Tel Aviv, Israel (PRWEB) June 24, 2015
Solocam is now live on Indiegogo! The first selfie stick-HD mic hybrid is now live on Indiegogo.
Solocam forever Ltd. Launches its first Indiegogo campaign, aiming to raise $40,000USD in order to bring to life its flag product - the SoloCam.
Selfie sticks have been receiving a lot of attention in the last couple of years, usually being perceived as cheap touristic accessories making it easier to take the perfect "selfie picture". The SoloCam strives to surpass prejudices surrounding its ancestor and allow people to not merely take a snapshot of themselves but to also create high quality videos anywhere, anytime, by connecting their own devices (cameras/smartphones) to the SoloCam and its various features including high definition, double-handled microphone, better audio quality and control of the stick's movement and functions, all achieved via Bluetooth technology.
Weighing approx. 750 grams, the SoloCam is a portable, light and foldable tool that can be attached to various devices – from smartphones and GoPros to DSLR cameras, making it appealing to both professionals and Amateurs alike.
SoloCam's inventor Benny Goldstein - that other than being an inventor and patent lawyer also starred in various reality shows such as "The Big Brother" - stated: "The need for creating the SoloCam first arouse during my TV appearances. I kept seeing the inefficiency of bringing together an entire camera crew for a single shoot, and wondered how great it would be to have a device that combines quality filming and editing and that can be operated by a single person alone."
The basic SoloCam is offered on Indiegogo for the price of $39USD for early backers, while prices will later rise to $49USD. SoloCam's prototype is nearing completion and manufacturing should begin by September 2015.