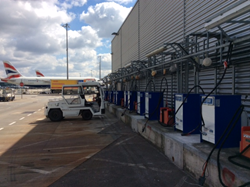 Gennevilliers, France (PRWEB) June 24, 2015
British Airways is extending its fleet of battery chargers at London Heathrow Airport to include the new 2100 Weatherproof High Frequency HP chargers from GNB Industrial Power, a division of Exide Technologies. BA, the UK's largest airline, already has around 400 chargers at Heathrow, and the deal will see 60 new chargers added to the fleet. Heathrow is the busiest airport in Europe and one of the busiest in the world.
Charging electric vehicles brings specific challenges of space, infrastructure, cost, and labour efficiency. Airport environments can be extreme, so chargers there require specialist equipment such as sun shielding, extra-strong casing, and climate control. GNB's weatherproof chargers are designed for harsh conditions, featuring temperature and humidity controls, heaters and cooling fans, and flexible power output. The chargers, equipped with extra-strong casing, do not require external covers thanks to the advanced weatherproof design.
GNB demonstrated clear cost savings to BA, and incorporated the airline's feedback into the final design. BA has used GNB chargers for ten years and trusts the brand's capabilities and track record in designing high-frequency chargers with low energy consumption and installation costs. GNB will offer BA ongoing support from its in-house engineers, assisting with the airline's extensive range of chargers and batteries.
Dave Worthy, British Airway's team manager, equipment services, GSE, said, "GNB took the time to understand our business, and delivered a product that exactly meets our needs. The 2100 Weatherproof HP chargers use some of the most advanced technology in the industry, offering excellent energy efficiency, resistance to extreme weather and very low input currents."